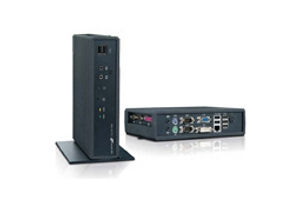 Bematech (formerly Logic Controls) LC8700 Retail Hardened Computer
Discontinued
Replaced by: Bematech (formerly Logic Controls) LC8710 Industrial Computer
Logic Controls LC8700 Retail Hardened Computer
Fanless and Reliable
Retail hardened computers need to be reliable, as they often are used for mission critical applications and not placed in an office environment. The Logic Controls LC8700 provides unparalleled reliability by being a fanless and ventless unit. It is an ideal computer for use in harsh environments with high levels of dust or oil or when fan noise is not desirable. For enhanced reliability, all of the computer components and connectors reside on one PC board. The Logic Controls LC8700's single board computer limits the number of internal cables, a common source of loose connections and failures. A true no-moving-part operation is provided when compact flash is used for mass storage or boot-from-network configurations are employed.
Ultra Compact and Rugged
The Logic Controls LC8700 has a very compact form factor – only 2"H x 8"W x 6"D. Two mounting tabs enable these modules to be mounted almost anywhere – on a wall, ceiling, table top or under a counter. For minimum foot-print, the LC8700 can be mounted vertically. The computer is housed in a rugged die cast case for extra protection.
Full Compliment of I/O Ports
The Logic Controls LC8700 provides a very impressive compliment of modern and legacy I/O ports. Standard 4 serial, 7 USB 2.0, 1 VGA, 1 DVI-I (optional), 1 parallel, 1 Ethernet (10/100/1000 Mb/s), PS/2 keyboard and mouse, microphone and speaker ports are all available. Hence industrial applications that require serial or parallel interfaces are fully addressed.
The Logic Controls LC8700 also uses Intel high performance processors, so it can run all Windows and Linux-based graphics and video applications. Whether your application runs on Windows Vista, Windows XP, Windows XP embedded, Windows 2000, ( Windows CE and Linux upon request), your operating system needs are supported by the Logic Controls LC8700. This enables the unit to be used in a wide variety of applications – in a restaurant's kitchen system, in a POS workstation, in an auto ID workstation, etc.
Fanless and ventless operation
Intel Atom CPU 1.66GHz, 512KB L2 Cache
Ultra compact - only 2"H x 8"W x 6"D
No internal connecting cables and no internal moving parts for ultimate reliability with CF mass storage
Enclosed in rugged die cast case
1GB to 2GB DDR2 SODIMM RAM
Large number of available I/O ports: 7 USB 2.0, 4 serial, 1 VGA, 1 DVI-I, 1 Ethernet, PS/2 keyboard and mouse, 1 LPT, speaker out, microphone in, power input
Mass storage: Compact flash and/or PATA/SATA hard disk drive
Multimedia: 1400 x 1050 pixels (SXGA+) max, 256MB max shared video memory
System boot from CF, HDD, USB, or network
Need help finding a complete solution?
Call our product experts today!