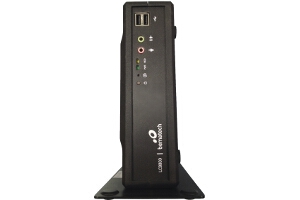 Bematech (formerly Logic Controls) LC8800 Retail Computer
Discontinued
Replaced by: Bematech (formerly Logic Controls) LC8810 Computer
Logic Controls LC8800 - Retail Computer
Superior Performance and Flexibility
High performance, flexibility, and efficiency of operation are some of the features that make Bematech's LC8800 the ideal computer for Retail and Hospitality outlets. The Industrial Computer operates with high quality, speed and reliability, while maintaining reduced operation cost.
Multi-Functional
The LC8800 is the latest Retail Hardened Computer of Bematech's LC Series. Its Dual-core processor was built for businesses that need a reliable unit to function and manage content at advanced speeds. The Dual-core functionality will enhance any systems multitasking computing power. It's easy access hard drive compartment enables operators to change the disk quickly, and without any tools. The unit is fanless which eliminates any unwanted noise, as well as ventless protecting the unit from harmful outside particles. Its sleek design and compact form factor make it the ideal unit for virtually any space. The units have been used in many applications such as kiosks, POS Systems, Digital Menu Boards and more.
Full Compliment of I/O Ports
Similar to other powerful LC Series Retail Hardened Computers the LC8800 provides a very impressive compliment of modern and legacy I/O ports. Standard 4 serial, 6 USB 2.0, 1 VGA, 1 DVI-I (optional), 1 parallel, 1 Ethernet (10/100/1000 Mb/s),1 PS/2 port, microphone and speaker ports are all available. Hence industrial applications that require serial or parallel interfaces are fully addressed. The LC8800 also uses Intel high performance processors, so it can run all Windows and Linux-based graphics and video applications. Whether your application runs on Windows 7, Windows XP, Windows XP embedded, POS Ready 2009, ( Windows CE and Linux upon request), your operating system needs are supported by the LC8800. This enables the unit to be used in a wide variety of applications – in a restaurant's kitchen system, in a POS workstation, in an auto ID workstation, etc. Its compact form factor – only 2"H x 8"W x 6"D and two mounting tabs enable these modules to be mounted almost anywhere – on a wall, ceiling, table top or under a counter. For minimum foot-print, the LC8800 can be mounted vertically. The computer is housed in a rugged die cast case for extra protection.
Fanless and ventless operation
Intel Atom CPU D525 1.8GHz, 1MB L2 Cache
Ultra compact with easy access hard drive compartment
No internal connecting cables and no internal moving parts for ultimate reliability with CF mass storage
Enclosed in rugged die cast case
2GB DDR3 SO-DIMM RAM (up to 4GB supported)
Large number of available I/O ports: 6 USB 2.0, 4 serial, 1 VGA, 1 DVI-I(optional), 1 Ethernet, 1 PS/2, 1 LPT, speaker out, microphone in, power input
Mass storage: Compact flash and/or SATA hard disk drive
Multimedia: 1400 x 1050 pixels (SXGA+) max, 224MB max shared video memory
System boot from CF, HDD, USB, or network
Need help finding a complete solution?
Call our product experts today!