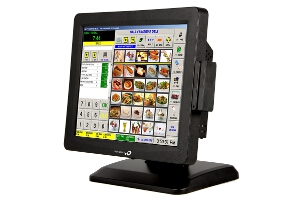 Bematech (formerly Logic Controls) SB9011D Dual Core All-in-One Terminal
Discontinued
Replaced by: Direct Replacement Not Available - Contact Us For Suggested Replacement
Logic Controls / Bematech SB9011D All-In-One Dual Core Terminal
The SB9011D is Bematech's latest edition to the SB series all-in-one terminals, equipped with a powerful Intel Processor D525. The terminal is fanless and robustly designed to function well in harsh environments. The SB9011D supports various peripheral options such as MSR, customer displays, scanners and printers. The unit is designed with only the most necessary I/O ports which helps maintain the units cost-efficiency. The easy cable management mechanism keeps wires in order for a neat appearance at the checkout counter.
Intel Dual Core Processor 1.8 Ghz
Up to 4GB Ram, operates ideally with Windows 7 and Windows 8
Fanless design
Supports wide range of operating systems
Multiple I/O ports
Compact design with easy cable management mechanism
Need help finding a complete solution?
Call our product experts today!