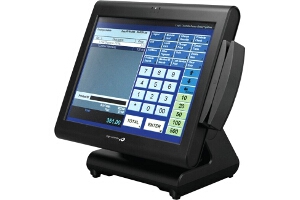 Bematech (formerly Logic Controls) SB9015 All-in-One POS System
Discontinued
Replaced by: Direct Replacement Not Available - Contact Us For Suggested Replacement
Logic Controls SB-9015 All-in-One POS System
SB-9015 delivers the perfect blend of quality, performance, durability, and economy that make it the Best-in-Class hardware for Ponit-of-Sale All-in-One touch screen systems.
The SB-9015 is equipped with an industrial fanless computer and built with die-cast aluminum housing. It is a perfect choice when a low profile All-In-One solution is needed. Two thumb-screws located at the back panel of the LCD allow an easy access for service and maintenance.
Fanless operation
Robust design that offers high stability
Support a wide range of operating systems
Wireless LAN allows for connectivity without cables
Flexible configuration
Easy maintenance
Cable management
Need help finding a complete solution?
Call our product experts today!