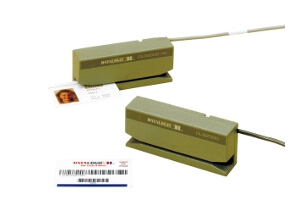 Datalogic / PSC DLS2000 Slot Reader
Discontinued
Replaced by: Direct Replacement Not Available - Contact Us For Suggested Replacement
Datalogic DLS2000/2000-M Slot readers
Datalogic DLS2000 is a family of bar code readers designed for data collection applications in both commercial and industrial environments.
The slot readers are available in both red and infrared versions with single resolution optics designed to read high and low density codes.
The double diode illumination method allows High First Read Rate on scratched and dirty bar codes and is capable of scanning multi-laminated cards.
The Datalogic DLS2000 family is composed of digital and decoded models.
The digital models - Datalogic DLS2000 - have pen output and can be connected to the compatible family of Datalogic decoders (Dataplus family and DLD1000) or to any external device that accepts pen input.
The decoded models - Datalogic DLS2000-M - are available with RS232 or Wedge output, and can be connected to the host computer using the Datalogic DLC6065/90-M CCD reader plug-in cable set.
All the decoded versions are supplied with a quick reference bar code configuration manual. Should the default settings not match the particular application, the user can customize them through the serial channel or bar code strings.
The Datalogic DLS2000 slot family can be installed on a flat working plane or attached to the wall according to specific application needs.
Rugged metal housing
Double illuminating diode
Single optic resolution
Red and infrared versions
Security and laminated codereading
"Good Read" LED indicator and beeper
RS232 and wedge decoded versions (DLS2000-M)
Plug-in cable set (DLS2000-M)
Sm@rtSet: Hand Held Readers Management Software
Product Specifications
Rent this Product
Need help finding a complete solution?
Call our product experts today!