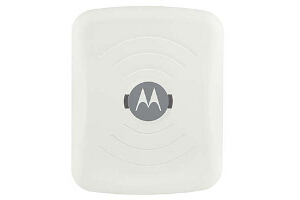 Extreme Networks (formerly Zebra / Motorola) AP 6532 Access Point
Discontinued
Replaced by: Extreme Networks (formerly Zebra / Motorola) WiNG AP 7522 802.11ac Access Point
Zebra (formerly Motorola / Symbol) AP 6532 Access Point
The performance-focused dual radio 802.11n AP 6532 access point provides customers with higher throughput and dual-radio performance while benefiting from WiNG 5 intelligence at the edge. This versatile AP leverages Zebra's 802.11n band-unlocked radios, allowing IT to use the second radio to provide WiFi access or serve as a dedicated wireless sensor that scans both 2.4 and 5 Ghz bands for network assurance and security The access point will also continue to run if its connection to a local or remote controller is interrupted. The AP 6532 can serve as a virtual controller and coordinate the operation of up to 24 neighboring access points for mobility and QOS services.
Automatic channel and power optimization
The AP 6532's SMART RF feature automatically optimizes power and channel selection so each user gets always-on high-quality access and mobility.

Gap-free security
Includes layer 2-7 stateful packet filtering firewall, AAA RADIUS services, Wireless IPS-lite, VPN gateway, and location-based access control. Users can also add role-based access control and AirDefense Wireless IPS and rogue detection for premium-level security vigilance.

Full performance using standard POE
The AP 6532 is designed to provide full 802.11n performance using standard and lower cost POE 802.1 (af).

Device mobility
Supports fast secure roaming at Layer 2 and Layer 3. In addition, the network optimizes mobile performance with load balancing, pre-emptive roaming and rate scaling.

Greater coverage per AP
The powerful 24 dBm radio increases coverage, performance and obstruction penetration versus 23 dBm radios. In addition, receiver sensitivity has been increased proportionally so users have and increased ability to maintain high-performance access.

Device and network acceleration
Device and network performance can be accelerated through a virtual LAN feature via the switch/controller. Each access point can be virtualized into four unique VLANs, which can be customized to direct broadcast traffic to the intended recipient. This reduces overall network traffic while improving device performance and battery life up to 25%. This also reduces the overall number of access points required to provide unique device services.

Easy deployment and maintenance
Requires no configuration or manual firmware maintenance. The Zebra wireless controller discovers access points on the network and automatically downloads all configuration parameters and firmware, greatly reducing installation, maintenance and troubleshooting costs for Layer 2 and Layer e deployments.

Multiband operation
Allows concurrent sensing on 2.4 GHz and 5.0 GHz frequency bands for multiband intrusion protection or troubleshooting.

Application support
Supports Call Admission Control for optimized VoWLAN performance, as well as video streaming and data throughput for 802.11a/b/g/n clients.
Product Specifications
Rent this Product
Need help finding a complete solution?
Call our product experts today!