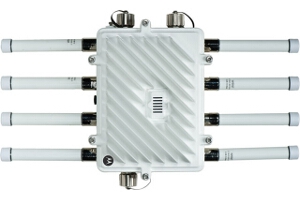 Extreme Networks (formerly Zebra / Motorola) AP 7161 802.11 Outdoor Dual Radio WiNG 5 Access Point
Discontinued
Replaced by: Extreme Networks (formerly Zebra / Motorola) WiNG AP 7562 Outdoor 802.11ac Access Point
Zebra (formerly Motorola / Symbol) AP 7161 WiNG 5 Enabled Outdoor 802.11n Mesh Access Point
Breakthrough your walls and extend to the outdoors with WiNG 5 and the Symbol AP7161, delivering ruggedized outdoor performance and the ability to defend your perimeters from intrusion. AP7161 brings together the latest in 802.11n 3x3 MiMO tri-radio design with 24x7 Intrusion protection system WLAN Security Services both in software and dedicated sensor radio support, big things can come in small packages.
CAPACITY AND PERFORMANCE LEADING MESH DEPLOYMENTS
AP 7161 has been optimized within the Zebra WiNG 5 platform to provide leading capacity, performance and design and is ideal for industrial and enterprise campus, video surveillance, public safety, and smartgrid utility deployments.
ZEBRA MESHPATROL PERIMETER INTRUSION SECURITY
Extending the indoor network to the outdoors increases the need to guard against unwanted intruders and attackers, and monitor the performance and availability of mesh networks. In addition to industry standard security for clients and radio backhaul, the AP 7161 provides true perimeter security using either a dedicated dual-band sensor or software mode in 2.4GHz and 5Ghz bands. Concurrent around-the-clock dual-band Network Assurance sensing and wireless traffic is provided together with spectrum analysis — eliminating the need for separate devices. The Integrated Wireless IPS sensor option enables the configuration of one radio for 24x7 rogue detection and termination, and two others can simultaneously be dedicated to wireless client access and/or meshing. As a result, enterprises can now deploy the most robust Wireless IPS solution while saving money — the cost to purchase, deploy and manage dedicated sensor hardware is eliminated.
INDUSTRIAL AND ENTERPRISE CAMPUS DEPLOYMENTS
The AP 7161, specifically designed for outdoor use, delivers enterprise-class wireless networking in harsh environments.
In addition to a NEMA 4X-modified housing, AP 7161 has extended temperature range operation and an array of weatherized antenna and power accessories. AP7161 gives campus environments, self-forming, self-healing MESH capabilities, and support for Wi-Fi multimedia (WMM) extensions to ensure quality of service (QoS) while cost-effectively extending networks beyond and between buildings — with no need to install additional Ethernet cable or fiber. With integrated router, firewall, DHCP, AAA and hotspot services, the AP 7161 offers a superior outdoor WLAN solution.
VIDEO SURVEILLANCE NETWORKS
Capacity in video surveillance solutions is critical to the performance of many networks designed to monitor and provide safety. To assist with the deployment of video where the camera application resides, the AP 7161 offers band unlocked radio flexibility letting the user choose the radio type, between 2.4Ghz, 5Ghz and 4.9Ghz bands. The AP 7161 supports 3x3 MIMO (Multiple Input Multiple Output) technology reaching a maximum data rate of 300 Mbps, to maintain high performance and better quality of transmission.
RELIABLE SECURE PUBLIC SAFETY NETWORKS
The AP 7161 is designed to optimize network availability through its central and pre-emptive intelligence which dynamically senses weak or failing signals, securely moves mobile users to alternate APs, and boosts signal power to automatically fill RF holes and ensure uninterrupted mobile user access.
The AP 7161 band unlocked radios allow flexibility and deployment options for the public safety market. The powerful radio increases coverage, performance and obstruction penetration for outdoor use. In addition, receiver sensitivity has been increased proportionally so users have an increased ability to maintain high-performance access for mobility and client devices in the network.
SMART GRID ULTITIES
Automatic Metering Infrastructure (AMI) is being deployed by utilities companies to increase efficiency and eliminate the need for their workforce to manually read utilities meters.
The AP 7161 is designed to optimize wireless data for this application and will have sufficiently more bandwidth for multiple agencies applications, thus increasing the ROI for the different agencies.
MOBILITY WITH VEHICLE MOUNTED MODEM
The AP 7161 enables any vehicle, train or bus to offer secure and reliable wireless broadband connectivity at high speeds as a Vehicle Mounted Modem (VMM). Access can be used for connectivity to the Internet, offloading DVR content, live streaming video, database access and other high bandwidth applications. Bus systems, public safety, and mining operations can use the AP 7161 VMM for real-time network connectivity.
Ideal Applications
Industrial and Warehouse operations
Public Safety
Municipal and Operator Access
Smart Grid Applications
Video surveillance applications
Extended hotspots for public access
Enterprise, Education and Healthcare campus facilities
Use as VMM in bus systems and mining
802.11n support with 3X3 MIMO
Delivers maximum wireless network throughput to support virtually any enterprise application, including voice and video

Band-unlocked dual band design
The ability to dedicate multiple radios to multiple functions increases security without increasing costs; band-unlocked radios enable 24x7 dual band Wireless IPS sensing on both 2.4GHz and 5GHz with concurrent 802.11a/b/g/n client access and mesh

Mesh networking
Patented Mesh Networking alogirthms that allow wireless extension of existing wired or wireless networks in remote or outdoor locations

Outdoor rated IP 67 Cast Aluminum Enclosure
Equipment designed to withstand wind, rain, and extreme temperatures
Product Specifications
Rent this Product
Need help finding a complete solution?
Call our product experts today!