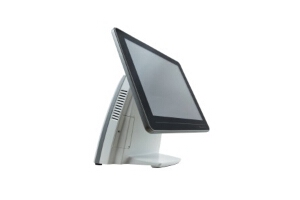 FEC AerPOS (AP-3435) 15" Bezel Free Fan-less POS Terminal
FEC AerPOS (AP-3435) 15" Bezel Free Fan-less POS Terminal
AerPOS is a beautiful POS terminal with an ultra slim display, sleek chassis and small footprint design. AerPOS looks elegant, yet it can endure the toughest retail and hospitality applications with its no venting design and aluminum chassis.
Space Saving, Small Footprint and Upright Design
Upright elongated design delivers a sophisticated look for high-end environments such as fashion apparel and hotel

Downward Facing I/O Connector Panel for Better Countertop Management
Neatly conceals cabling under terminal for workspace

Ultra Slim Magnetic Stripe Reader Module
MSR reader measures one centimeter in thickness when installed
Product Specifications
Rent this Product
Need help finding a complete solution?
Call our product experts today!