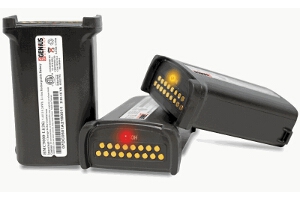 GTS (Global Technology Systems, formerly Honeywell Batteries) Genius Technology Battery
Honeywell Batteries Genius Batteries
Genius Batteries™ are the most intelligent solution for simple and efficient battery management.
Features:
Uses GTS Genius Technology to monitor and calculate the battery's True State-of-Health.
Tracks and stores usage history and performance data within the battery.
Built-in LED light alerts user when battery nears end of life.
Certified compatible with OEM equipment.
Longer battery life for full-shift operation.
Reinforced contact assembly to ensure uninterruptible scanning.
Uses the highest quality graded and sorted battery cells.
Stronger, high impact polymer case.
Rigorous testing including altitude simulation, temperature, vibration, shock, drop, short circuit and overcharge.
Each battery is guaranteed to be free from defects in materials and workmanship and can maintain a minimum of 80% of its rated capacity for 12 months from date of shipment under normal use.
Rent this Product
Need help finding a complete solution?
Call our product experts today!