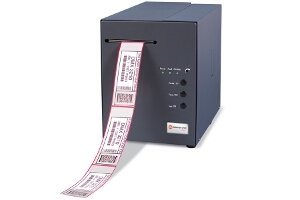 Honeywell (formerly Datamax-O'Neil) S-Class Thermal Ticket Printer
Discontinued
Replaced by: Direct Replacement Not Available - Contact Us For Suggested Replacement
Datamax-O'Neil S-Class Thermal Printer
The S-Class is Datamax-O'Neil's professional ticket printing solution. The S-Class thermal printers are designed for reliable ticket printing that can fit an any environment. The rugged all metal construction combined with proven thermal printing technology and two configurations to choose from make it the ideal fit for professional ticketing businesses.
The Datamax-O'Neil S-Class ticket printers are world renown for their continued service and reliability. It is no coincidence that the Datamax-O'Neil S-Class printers last so long; they were engineered with simplicity and reliability in mind. The Datamax-O'Neil S-Class is designed to provide customers with the highest level of reliability utilizing all metal construction, ruggedized components and durable thermal printing technology. The Datamax-O'Neil S-Class ticket printers are available in two basic models, the ST and SV, to support horizontal and vertical ticket orientations. The ST printer sets on the countertop and contains the ticket stock within its locking cabinet. The printed ticket is delivered horizontally from the front of the printer. The SV printer drops into the countertop and sets flat with the countertop. It pulls the ticket stock from an open area beneath the counter, and delivers the printed ticket vertically out of the top of the counter.
Thermal Printing Technology – The S-Class utilize direct thermal printing to provide the very best barcode printing reliability as possible.
Industrial Grade Design – The industrial grade design is simple and utilizes strong durable materials.
Heavy Duty Construction – The construction is made up of heavy duty steal cabinets and framework.
Reliability Proven Thermal Printing Technology – Every component of the S-Class is designed to provide the very best in class reliability.
Available in counter-top (ST) and undercounter models (SV) – The two variations allow the printer to adapt to any ticketing application.
Easy to Use Interface – The three button user interface and status indicators are both simple and easy for anyone to use.
Easy Ticket Loading – Ticket loading is a snap with the quick release and auto loading mechanism.
High Resolution – Both the ST and SV are available in high resolution 300dpi for high resolution printing applications.
Product Specifications
Rent this Product
Need help finding a complete solution?
Call our product experts today!