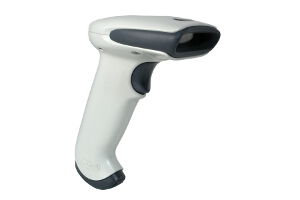 Honeywell (formerly HHP / Hand Held Products) 3800g Corded Handheld Linear Imager Barcode Scanner
Discontinued
Replaced by: Honeywell Hyperion 1300g Corded Handheld Linear Imager (1D) Barcode Scanner
Honeywell 3800g Linear-Imaging Scanner
From the global leader in imaging technology comes the 3800g—the newest member of the legendary 3800 family of linear imagers.
The first in a new class of 3800 linear imagers, the 3800g was built to deliver world-class performance for a broad range of market applications.
Featuring an ideal balance of performance, durability, ergonomics, and connectivity solutions, the 3800g delivers years of hassle-free scanning for applications in retail, warehouse, manufacturing, distribution—and all points in-between.
The first linear imager to earn the Adaptus® Imaging Technology brand, the new 3800g is powered by Adaptus 5.0, delivering breakthrough linear imaging performance and versatility. Fast, intuitive bar code reading across a range of high and low density codes, the 3800g quickly reads even damaged and poorly printed bar codes—all in a single device.
Sound, ergonomic design and class-leading durability, coupled with aggressive reading performance, makes the new 3800g the ideal choice for customers who appreciate best-in-class value in a handheld linear reader.
Performance and Versatility Powered by Adaptus Imaging Technology 5.0:

Excellent tolerance to lateral hand motion (4x faster) makes 3800g easy to use.
270 scans per second makes bar code reading faster than ever.
Improved depth of field across a broad range of linear bar codes.
Working range from .5 inches to 18 inches on 100% UPC/EAN symbols.
Improved ability to read damaged or poorly printed bar codes.

General Purpose Reader: Single device covering the broadest range of customer applications
Modern, Ergonomic Design: Sleek, modern industrial design results in a smaller, lighter device for increased operator comfort and productivity
Durable: No moving parts to wear out. Full impact resistant bumpers and a 5 year warranty make the 3800g one of the toughest scanners on the market
Connectivity: All popular interfaces are on board. Includes Visual Express™ software for ease-of-integration. Supports Unified POS standard and Windows® Embedded for Point of Service, for retail connectivity
Common Cabling: Uses same cable solutions as our linear, 2D, and cordless imagers—for easy ordering and efficient spares pools
Future Proof Symbology Support: GTIN compliant, GS1 DataBar capable
Intuitive Aiming Line: Thin, crisp aiming line for easeof- use in scanning bar coded menus and densely populated documents
Full Line of Accessories: Includes presentation scanning, global power choice options, and purpose built mounting solutions
Intuitive User Feedback: Fully programmable options for application-specific "good read" LED and beeper settings
Need help finding a complete solution?
Call our product experts today!