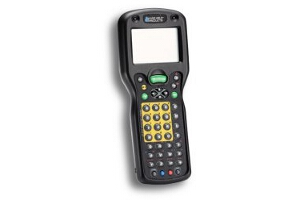 Honeywell (formerly HHP / Hand Held Products) Dolphin 7300 Wireless RF Handheld Mobile Computer
Discontinued
Replaced by: Direct Replacement Not Available - Contact Us For Suggested Replacement
Honeywell Dolphin® 7300 RF Mobile Computer
The Dolphin® 7300 RF portable data terminal is the latest addition to the HHP Dolphin family of mobile computers. Its ergonomically friendly design, robust construction, and integrated 802.11b wireless communications make it ideally suited for today's most demanding mobile workforce environments.
Featuring the Windows CE 3.0 operating system powered by an Intel StrongARM 206 MHz processor, the Dolphin 7300 RF provides a powerful and versatile mobile computing platform. The open system architecture facilitates rapid application development and deployment using Microsoft eMbedded Visual Tools and SQL Server CE database. Support for IBM 3270, IBM 5250, and TNVT terminal emulation is also provided, allowing the Dolphin 7300 RF to be easily integrated into existing legacy systems.
Equipped with an integrated area imager, the Dolphin 7300 RF provides multi-functional data capture capabilities that far exceed traditional laser based terminals. Using Advanced Linear Decoding (ALD), the 7300 RF provides laser-like scanning performance on 1D bar codes and industry best decoding performance on PDF417 bar codes. In full area imaging mode, the 7300 RF reads most 2D bar code symbologies, performs signature capture, reads OCR fonts, and takes black and white photos. This level of flexibility and performance lends true value to virtually all ADC applications, allowing enterprises to incorporate new forms of data capture both today and well into the future.
Using an integrated 802.11b compact flash radio, the 7300 RF provides real time wireless communications, enabling mobile workers to capture, process, and deliver data where and when it's needed throughout the WLAN enterprise. Prolonged terminal operation is ensured by the rechargeable 2700 mAh NiMH battery, which provides up to eight hours of continuous use in a WLAN environment between charges.
The Dolphin 7300 RF is equally tough as it is sophisticated, designed to meet IP-64 standards for moisture and particle resistance and capable of withstanding repeated five-foot drops (1.5 meters) to concrete, fulfilling the needs of most industrial environments.
Microsoft® Windows® CE Platform – Portable convenience with full programming flexibility using Microsoft ® eMbedded™ Visual Tools including CE versions of Visual C++, Visual Basic, and SQL Server CE database.
Integrated Intel® IEEE 802.11b WLAN communications – Provides real time, pervasive information access.
IQ Imaging™ with Advanced Linear Decoding (ALD) – Provides instant decoding of 1D & 2D bar codes, captures signatures, and takes pictures.
Superior Ergonomics – Compact size with secure handgrip and integrated hand strap for enhanced user comfort. Keyboard designs facilitate left or right hand use. Multiple Keyboard Options – Intuitive, optimized layouts for various ADC applications.
Rugged IP-64 Construction – Operates in harsh environments and withstands rough treatment. Terminal Emulation Support – Compatible with legacy applications and systems.
High Capacity 2700 mAh Battery Pack – Ensures long battery operation time with WLAN and scan intensive applications.
1/8 VGA Monochrome Display with Touch Screen Option – High-contrast, backlit display provides easy application viewing in most lighting conditions.
Product Specifications
Rent this Product
Need help finding a complete solution?
Call our product experts today!