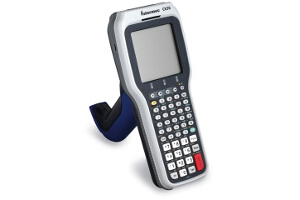 Honeywell (formerly Intermec) CK30 Mobile Data Collection Terminal
Discontinued
Replaced by: Honeywell (formerly Intermec) CK3 Wireless Handheld Mobile Computer
Intermec CK30 Mobile Data Collection Terminal
The Intermec® CK30 mobile data collection terminal continues the tradition of delivering on Intermec's promise of rugged, reliable computing that will position your enterprise for the future with a combination of best-in-class features and functionality, such as thoughtful ergonomic design and integrated imaging options. With an unparalleled capability to perform legacy applications, the CK30 gives your enterprise investment insurance because it is the ideal bridge between the technologies you're using today and what you will need tomorrow.
The CK30 delivers the right level of computing power with the Microsoft® Windows® CE .NET operating system, designed to provide the optimum combination of real time operation, development tools and connectivity available today for battery driven, mobile data collection devices.
The CE .NET operating system also supports mainstream application development tools for upgrading existing applications or starting from scratch. For client applications, the forward-looking .NET Compact Framework and Visual Studio .NET development tools will streamline any modifications that might be required between different .NET devices, including the Intermec® 700 Series Pocket PC mobile computer.
The Intel® Xscale™ processor, running up to 400 MHz, provides more than enough power to drive the bright color display, a range of peripherals, repetitive scanning and wireless network traffic. It delivers the level of response time and throughput required for real time, mission-critical applications in warehousing, distribution, manufacturing operations and retail in-store management.
Because of the many configurations available, you can tailor the CK30 to your usage plans and application priorities. Position your enterprise for growth by selecting the 64MB RAM/64MB Flash option for the highest level of application flexibility. Or, choose less memory and a high contrast mono display for very thin clients or terminal emulation to reduce your initial investment. Additional configuration alternatives include Bluetooth™ for the convenience of wireless peripherals such as wearable label printers.
The CK30 offers unmatched scanning performance and choices. Intermec's new linear imagers deliver reliability and superior scanning performance for arm's length scanning applications. Select laser scanners for either standard range or long-range applications depending on preferences or usage requirements. An area imager option will support 2D symbologies. Attach tethered scanners for additional ergonomic flexibility.
Because the CK30 can run Intermec TE2000 as well as third party terminal emulation clients, it enables unparalleled portability of legacy applications for mix-and-match operability with existing TE networks. In addition, the CK30 offers investment protection because it can run existing Intermec 2400 family applications with only a re-compile. Additionally, you can easily implement Web-based applications either through text-based or Pocket/Internet Explorer browsers.
The CK30's Wi-Fi® certified 802.11b/g radio insures consistent performance by providing the best available wireless network throughput and reliability. For off-line or batch applications, the CK30 readily fits into single or 4-bay communication docks with USB, RS232 and Ethernet host connectivity.
The CK30 also offers several choices of wireless security protocol including LEAP and EAP (TLS and TTLS) as well as extreme security through FIPS 140 integration.
The user-tested ergonomic design of the CK30 has rendered a lightweight and uncommonly well-balanced device that reduces user stress and fatigue during extended work sessions. Its sculpted back case is shaped to comfortably accommodate any hand size. An optional pistol grip handle is ideal for highly repetitive scanning situations.
An additional design feature of the CK30 includes a high capacity lithium-ion battery "back" directly integrated into the shape of the computer, so users can not only expect at least a full shift of usage without having to change the battery, but also can avoid the complications of a battery door.
Highly configurable, offering terminal emulation, browser or custom client applications
Based on industry standard platform Microsoft® Windows® CE .NET
Powerful Intel® Xscale™ processor
Color or mono display
Integrated imaging and laser scanner options
802.11b/g radio with choices of wireless security protocols
Advanced ergonomic design for comfort
Product Specifications
Rent this Product
Need help finding a complete solution?
Call our product experts today!