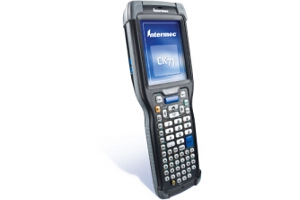 Honeywell (formerly Intermec) CK71 Ultra-Rugged Wireless Handheld Mobile Computer
Intermec CK71 Ultra-Rugged Mobile Computer
(Manufacturer page here)
Intermec is the first to offer a no-compromise solution with the CK71 ultra-rugged mobile computer. In addition to being 31% smaller and lighter than other form factors in its ultra-rugged class, the CK71 is optimized for your warehouse and distribution environments with premium, industrial grade materials for the perfect balance of ruggedness and duty cycle along with next generation features that focus on enabling flexibility and agility, even in the most extreme conditions.
To create the smoothest possible integration into your workflows, we surrounded it with a complete set of software, tools, services and training modules, delivered by us and from our global network of best-in-class reseller and ISV partners.
Every 70 Series mobile computer comes pre-loaded with Intermec's ScanNGo client to provide a premium device provisioning experience to simplify and expedite device staging operations. The standalone ScanNGo client enables CK71 users to provision, configure and automatically download application software in a matter of seconds rather than minutes by simply reading pre-configured bar codes.
When workload demands shift unexpectedly, the CK71 gives you the flexibility to redeploy staff without consideration to the tools needed to get the job done.
With the industry's first dual-band 802.11n WLAN radio, the CK71 delivers rock solid performance and consistently fast response times, even in areas where you might experience low signal levels or intermittent connections with traditional 802.11a/b/g products.
And by combining the latest generation of superscalar multi-processor architecture that delivers up to three times the performance at half the power consumption of legacy processors along with state-of-the-art battery health diagnostics, the CK71 can be relied upon to deliver the power and performance you require as well as reduce the expenses associated with replacement batteries.
The CK71 leverages Intermec's industry-leading near/far area imager, capable of scanning from 15.2 cm up to 15.2 m (6 in up to 50 ft) allowing you the flexibility to read both 1D and 2D bar codes without the need for specialized scanners. For highly dynamic environments, the CK71 also offers Intermec's latest achievement: the industry's fastest imaging engine, capable of scanning bar codes moving at up to 12.7 m (500 in) per second, enabling the CK71 to provide remarkable tolerance to hand or bar code movement.
The unique device health reporting capability of the CK71 provides insight never before available to allow workers and IT administrators to monitor and prevent issues before they impact operations. Key sub-systems including battery life, scanning, and communications can be monitored by either the mobile worker via an on-board dashboard or remotely through the Intermec SmartSystems™ console resulting in optimization and better utilization of your mobile computing assets.
For customers who want a trusted partner to take over the day-to-day task of managing and troubleshooting their mobile devices and WLAN infrastructure, Intermec's INcontrol managed services portfolio offers flexible, integrated mobile device and wireless network management service options via a hosted web based tool set.
The CK71 is just one model out of four ergonomic designs that are available in the 70 Series family. Each model includes choices of radios, keypads, imagers, software and services providing you the option of tailoring a specific solution to meet the various application areas within your environment and the preferences and needs of your employees.
With a single platform approach, the 70 Series family is unique in its ability to reduce infrastructure complexity and cost. The single computer architecture, software build, set of peripherals and charging system that is shared between the 70 Series products brings simplicity to the frequent tasks of software updates, training new employees, managing spares pools and charging devices.
All of the 70 Series products are supported by a new docking system designed to maximize the return on your investment in charging and communications infrastructure and greatly reduce the space you must devote to it. Called FlexDock, the system uses a common 2- or 4-position base, combined with cups for mobile computers and battery packs in any combination, to adapt the base your specific needs.
31% smaller and lighter than leading devices in the ultra rugged class
Industry's fastest and farthest imaging engines delivering superior motion tolerance and barcode read range
Exceptional peripheral support and quick change snap-on accessories provide versatility for every distribution environment
On-board diagnostics and INcontrol Managed Services provide device health visibility
Advanced power and battery management technologies extend device run time and reduce expense of replacement batteries
Dual-band 802.11n radio for pervasive wireless coverage
Non-Incendive option for hazardous locations CK71
Product Specifications
Rent this Product
Need help finding a complete solution?
Call our product experts today!