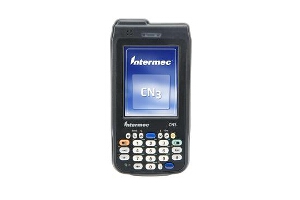 Honeywell (formerly Intermec) CN3 Wireless Handheld Mobile Computer
Discontinued
Replaced by: Honeywell (formerly Intermec) CN51 Wireless Handheld Mobile Computer
Intermec CN3 Mobile Computer
The first fully rugged mobile computer to incorporate up to four wireless technologies into a compact PDA form factor, the versatile CN3 has proven that integrated GPS and Bluetooth technologies can work together to increase efficiency and safety by enabling hands-free turn-by-turn voice navigation. Add 3G WWAN and Cisco Compatible WiFi , and your users are fully connected with real time voice and high-speed data (GSM/EDGE or CDMA/EV-DO) anywhere they go.
Built to survive the rigors of the road, the CN3 meets rugged, standards-based environmental specifications and provides features that meet the needs of mobile workers. The CN3's 2.0 megapixel color camera provides a vital data validation tool, enabling workers to document proof-of-service or vehicle inspection. The CN3 has a touch screen display, 128 MB RAM and is available with an ultra-slim extended battery that delivers easy-to-carry, all-day power.
With standard WiFi, Bluetooth and choice of integrated, network independent GPS receiver and WAN voice and data services (including 3G EV-DO or EDGE), the CN3 enables companies to stay connected with their mobile workforce in real time, driving improved efficiencies and increased asset visibility across their operations. The CN3 provides access to information at the point of work, allowing companies to dynamically deploy the right resources to the right location, and enabling their mobile workers to tap into the information they need to work most effectively. With mobile intelligence at their fingertips, companies can increase customer responsiveness while also reducing inventory and transportation costs.
This device is approved for use with PestPac Pest Control software.
Thin, rugged form factor fits the needs of the mobile worker
Integrated GPS with internal antenna enables efficient deployment of resources, improves asset visibility
WiFi®, Bluetooth®, and choice of WAN Radio (3G CDMA/EV-DO or GSM/EDGE) keep field workforce connected
Color camera provides powerful tool for documenting proof-of-service or vehicle inspection
Ultra-slim extended battery provides all-day power
Product Specifications
Rent this Product
Need help finding a complete solution?
Call our product experts today!