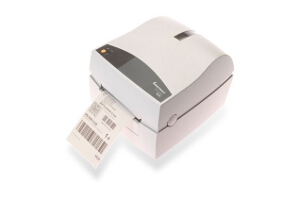 Honeywell (formerly Intermec) PC41 Desktop Barcode Label Printer
Discontinued
Replaced by: Direct Replacement Not Available - Contact Us For Suggested Replacement
Intermec PC41 Desktop Printer
Intermec's PC41 printer facilitates label printing in almost any environment including retail, office, healthcare, logistics, government, manufacturing, and warehouse – particularly where space is limited. The PC41 is a small, compact desktop printer that prints labels, tickets, and tags up to 4.1 inches wide to meet compliance mandates.
The unique double clam shell design minimizes down time with quick and easy media replenishment and QuickMount™ printhead changes. Labels and ribbons are easily swapped out via drop-in replacement. Additionally, Intermec offers a free printhead replacement program for customers who utilize Intermec printer supplies with the bar code label printer.
Flexible communication options enable users to utilize open ports without interfering with equipment that may already be connected to the computer.
The PC41 comes standard with RS-232 Serial and Centronics parallel interfaces. Optional interfaces include external ethernet or IBM Twinax or Coax interfaces.
The battery option for the PC4 facilitates mobile printing. Labels are printed quickly and easily throughout a full shift, whether the printer is powered via AC outlet or battery.
The PC41 printer is backwards compatible with existing 7421 printer installations. These small desktop label printers utilize Intermec's unique programming language (IPL).
Bar code label printing has never been so easy. The PC41 facilitates getting started with choice of stationary or mobile printing, and quick and easy media replenishment in a small compact printer designed to fit where space is limited.
Compact desktop printer for applications where space is limited
Unique double clam shell design offers easy drop-in loading of paper and ribbon supplies
Serial and Centronics parallel interfaces are standard
Battery option facilitates mobility
Optional ethernet, IBM Twinax or Coax interfaces
QuickMount™ printhead
Free printhead replacement program
Need help finding a complete solution?
Call our product experts today!