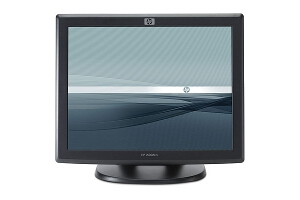 HP L5006tm 15" Touchscreen Monitor
Discontinued
Replaced by: Direct Replacement Not Available - Contact Us For Suggested Replacement
HP Touch Series HP L5006tm 15-inch touchscreen Monitor
The HP L5006tm 15-inch Touchscreen Monitor offers innovative touchscreen technology for quick and easy onscreen interactivity in point-of-sale (POS), hospitality, educational, banking, manufacturing, and kiosk environments.
Advanced performance
Touchscreen technology increases available work space by enabling interactive manipulation of the screen, virtually eliminating the need for a separate keyboard and mouse.
The monitor features Surface Acoustic Wave (SAW) touch technology, which allows accurate input through a finger, gloved hand, or stylus. The innovative glass screen provides better durability and is a damage-resistant alternative to film-coated display screens—it even continues working if scratched. The touchscreen input doesn't drift, so responses are fast and accurate.
In addition to its innovative interface, the monitor offers a variety of presentation features suited to everyday use in high-traffic environments:
Wide viewing angles for comfortable viewing by multiple users
Fast response time for crisp, clear presentation of images and text
USB and serial ports for easy device connectivity at the monitor
Ease of use and user—friendly features
The monitor features a sturdy design and a stable removable base engineered specifically for the physical demands of touchscreen use. The easy-to-use intuitive screen interface and application flexibility combine to help reduce training time and costs and operational errors, and help improve employee productivity and customer satisfaction.
Designed with the environment in mind
The HP L5006tm monitor meets stringent environmental, ecological, and recycling standards as part of HP's commitment to be environmentally responsible and meet global regulatory requirements.
Global support
The HP L5006tm monitor is supported by a three-year limited warranty backed by comprehensive HP service and support from 65,000 IT service and support professionals in 160 countries around the world.
Need help finding a complete solution?
Call our product experts today!