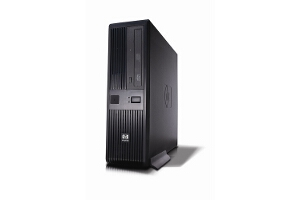 HP RP5700 Point of Sale Solution Terminal
Discontinued
Replaced by: Direct Replacement Not Available - Contact Us For Suggested Replacement
HP RP5700 Point of Sale Solution Terminal
Manage multiple aspects of your business with the retail-ready HP rp5700 Point of Sale (POS) solution. Customize a solution that's more sophisticated than a cash register or PC, starting with the HP rp5700 POS system, a high-quality, robust, long-lifecycle POS platform.
Next, add your choice of HP peripherals, such as a magnetic stripe reader, keyboard with magnetic stripe reader, receipt printer, customer display pole, or touchscreen monitor (each sold separately). Then, choose from a wide selection of software applications (from HP ISVs). Buy only what you need, and nothing more.
Flexible Solution for Your Entire Business
The HP rp5700 POS solution offers maximum flexibility for a range of businesses, from the local corner store to a national franchise with thousands of locations. Use out on the floor as a robust sales solution and behind the scenes as a powerful back office PC.
Built to Last
Retail business can be tough; you need a solution that stands up to your daily operational challenges. With its retail-hardened design and long lifecycle, the HP rp5700 system offers:
Oversized cooling that operates in an ambient 40°C environment
Higher endurance temperature rated capacitors that help resist heat and last longer
Gold-plated connectors that provide longer wear and resist corrosion
Poly-fused power ports that protect the system board from power surges or accidental hot-plugging
A high-wattage auto-sensing power supply with surge protection up to 2000V, to protect equipment and data
Easy serviceability with single latch entry, tool-less drive and motherboard removal, and rotating drive cage
Designed with the Environment in Mind
To help you conserve energy and spend less on cooling, the HP rp5700system has an 80% efficient power supply. This means the system draws less power from the power outlet. Additionally, the HP rp5700 can also be set for maximum power saving to minimize energy draw when turned off.
Supported by a Brand You Trust
The HP rp5700 solution is backed by a three-year limited warranty for the HP rp5700 system and peripherals.
HP RP5700 Point of Sale Terminal
Intel® Core™ 2 Duo E6400e processor3,4,5, Intel® Pentium® Dual Core E2160 processor3,5, Intel® Celeron® CEL440 processor5
Genuine Windows Vista® Business 32 Edition, Windows® XP Professional 32-bit available through downgrade rights from Windows Vista® Business 32 bit
Genuine Windows® Embedded for Point of Service (WEPOS)
Genuine Windows Embedded POSReady 2009
FreeDOS
Six USB 2.0 ports, two serial ports, and two PS/2 ports standard (additional ports available on select models)
HP L5006tm LCD Touchscreen Monitor: RB146AA
Get faster customer service, increase employee productivity and quick training with touchscreen technology
"Designed for touch" from the ground up; stable tilt base, and controls on side rather than front
Surface Acoustic Wave (SAW) touch technology, accurate input through a finger, gloved hand or stylus
Chemical resistant glass; offers a more durable damage-resistant alternative to film-coated display screens
Functions as desktop or wall-mountable; VESA mount option
HP Cash Drawer: FK182AA
Heavy duty, robust construction and latch mechanism ensure durability, consistent operation, and long life
Designed around a full-sized till, has a narrow footprint, minimizing counter space
Adjustable media slot divider separates and organizes sections for bills and coins
Four-function lock offers several layers of security: locked-closed, locked-open, online and manual open
HP USB Barcode Scanner: EY022AA
Serve customers faster and improve service and productivity with fast performance and a working range of 17 inches
Improve inventory accuracy and productivity by scanning products with bar code technology
Multiple modes of confirmation (bright LED and adjustable beeper volume) for positive user feedback
HP Powered USB Thermal Receipt Printer: FK224AA
Two color and monochrome thermal printing
Spill-resistant built-in liquid dam with drainage prevents damage to printing mechanism
Smaller and more compact than comparable printers, but features a large paper roll capacity (3.5 in/90 mm)
Quickly and easily change paper rolls with drop-in paper loading system
One-button programming for baud rate, interface, and energy-consumption mode
HP POS Keyboard with Magnetic Stripe Reader: FK218AA
Features programmable 106-position key layout with 28 configurable keys
Compact 14-inch form factor offers optimum space efficiency for retail environments with limited counter space
Integrated touchpad with two mouse buttons ensures easy cursor navigation in minimal desktop surface
Bi-directional swipe reads 1, 2, or 3 tracks of magnetic information
HP USB Mini Magnetic Strip Reader: EY026AA
Just 3.5 inches long, use as a free-standing unit or mount to a surface (MSR brackets included to attach to displays)
Automatically distinguishes between magnetic data formats and provides configuration of magnetic stripe data output format
Bi-directional read capability
HP Customer Display Pole: FK225AA
Display offers clear, easy-to-read 20-column x 2-line dot matrix in a wide viewing angle
Powered and connected through standard USB port for easy integration with POS
Supports three different heights by adding extension supports included in the kit
Need help finding a complete solution?
Call our product experts today!