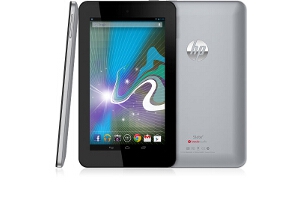 HP Slate7 Tablet
Discontinued
Replaced by: Direct Replacement Not Available - Contact Us For Suggested Replacement
HP Slate7 Tablet Computer
Amazing audio, amazing Android, amazingly worth it.
Introducing the completely capable, masterfully mobile, remarkably resourceful Slate7 from HP. It's one savvy little sidekick at one smart little price.
Artfully Android™
With the Slate7, you will enjoy speedy performance and direct access to Google™ Play for apps, maps, chat, music, rich multi-media capabilities and the latest security measures – all of this and more on a fully powered HP Android™ tablet.
Small, sleek, and ready-to-go
Your world is always at hand with an HP Slate7. At just 7 inches diagonal with stainless steel accents and a soft-touch back, it's perfect whether you're out and about or relaxing at home.
Need help finding a complete solution?
Call our product experts today!