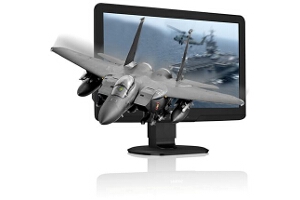 Philips BDL2331VS Autostereoscopic 3D Full HD LCD Monitor
Discontinued
Replaced by: Direct Replacement Not Available - Contact Us For Suggested Replacement
Philips BDL2331/VS Autostereoscopic 3D Full HD LCD monitor
A full 3D experience without the need for special glasses
Deliver your messages in stunning 3D, with excellent picture quality and no need for special glasses. With 28 lenticular views you can deliver jaw dropping images that will amaze your audience.
Operational flexibility
Stunning 3D experience

2D plus depth
28 lenticular views
3D Content Visualisation

Optimized for public viewing

Full HD LCD display, 1920x1080p

Lower total cost of ownership

SmartPower for energy saving

Sustainable and safe

Temperature sensor measures the health condition
Complies with RoHS standards to care for the environment
Autostereoscopic 3D
Enjoy a stunning 3D experience with no need for special glasses thanks to the autostereoscopic 3D effect. Using lenticular technology, it gives excellent clarity and depth, making your 3D experience even more lifelike and enjoyable.
Full HD LCD display 1920x1080p
This display has a resolution that is referred to as Full HD. The state-of-the-art LCD screen technology has the full high-definition widescreen resolution of 1080 progressive lines, each with 1920 pixels. This allows the best possible picture quality for HD input signals with up to 1080 lines. It produces brilliant flicker-free progressive scan pictures with optimum brightness and superb colors. This vibrant and sharp image will provide you with an enhanced viewing experience.
SmartPower
The backlight intensity can be controlled and pre-set by the system to reduce the power consumption by up to 50%, which saves substantially on energy costs.
Temperature sensor
This public dispay contains a temperature sensor to monitor the internal health condition. In case the internal temperature surpasses the preset threshold, automatically two internal fans will be activated to cool down the display to normal conditions.
Compliant with RoHS standards
Philips designs and produces display products in compliance with strict Restriction of Hazardous Substances (RoHS) standards that restrict lead and other toxic substances that can harm the environment.
28 lenticular views
With 28 lenticular views, you can "peek" around virtual objects on the 3D display, giving you the most stunning 3D visual effects around.
2D plus depth
2D-plus-Depth converted to 28 different views and interwoven into a stunning 3D format
3D Content Visualisation
The 2D-plus-Depth format is compatible with existing compression tools, as the additional bandwidth of the depth is small. Software tools are provided with the 3D display to play-out 3D content and control the 3D and 2D visualization parameters. The actual 3D content can be created via plug-ins available for popular 3D animation software packages. Existing 2D or stereo content can be converted into 2D-plus- Depth format. Tools are available to support real-time extraction and usage of the depth information from Direct3D or OpenGL applications, and thus real-time visualisation on the 3D display.
Need help finding a complete solution?
Call our product experts today!