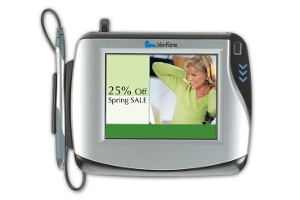 Verifone MX 870 Payment Terminal
Discontinued
Replaced by: Direct Replacement Not Available - Contact Us For Suggested Replacement
Verifone MX 870 Payment Terminal
VeriFone's MX 870 goes well beyond standard PIN pad technology and merges full-motion video, a vibrant fullcolor display, high-quality digital sound, and the most secure payment capabilities into a single, easy-to-use networked device.
Secure, Elegant and Flexible
Ideal platform for a variety of value-added applications, such as administrating loyalty schemes, gift card issuance, and top-up services
MX operating system combines the proven stability of a Linux embedded platform with the security of VeriFone's payment architecture
Includes PCI and EMV Level 1 and Level 2 Type approvals as well as Interac, RoHS and WEEE certifications
Supports end-to-end security with VeriShield Total Protect which eliminates usable cardholder data from POS applications, networks and servers
Host and device USB capability provides limitless scalability options, such as cost-effective memory expansion using USB Flash memory drives
Field-upgradable MX 800 Series printer and scanner enable applications such as price checking, product locators, instant credit applications and disclosures
Features that Present Your Message Brilliantly
Attractive compact footprint, optional speakers, illuminated magnetic stripe prompt and smart card reader grab attention in any environment
High-speed processor, backed by 128 MB of memory, refreshes screens instantly for compelling end user messaging
Active matrix display supports 65,536 colors for vibrant animations and video
10/100BaseT Ethernet connectivity pulls content seamlessly from any network
Customizable Solutions Built for the Long Run
Branded trim plates available with in-mold design for custom look with lasting high-quality finish
Modular design allows retailers to configure solutions that meet the needs of today while planning for tomorrow
Chemically-hardened touch panel glass resists scratching; non-mechanical stylus design eliminates failure points
MX Solutions: The Total Package
MX 800 Series hardware and peripherals are interchangeable, offering a wide variety of connectivity options
PAYware Vision, a fully integrated suite of software for payment, signature capture, device management, and content delivery, all from a central point of administration
Web Development Environment (WDE) makes development of customer interfaces easy, supports JavaScript, XML (AJAX), C++, PHP and cURL, and increases the capabilities of the MX 870 while reducing the overall development effort
Expertise and services from the industry leader in payments solutions that help retailers build loyalty, enhance customer satisfaction and increase sales
Supports VeriShield Remote Key to remotely and securely manage key injection, using online and offline methods, saving time and money
Need help finding a complete solution?
Call our product experts today!