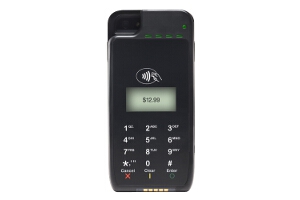 VeriFone PAYware Mobile e315 Mobile Payment Terminal for iPhone 5 / iPod Touch 5
Verifone PAYware Mobile e315 Mobile Payment Terminal
Designed for Optimal Performance and Better In-store Experiences
As technology evolves, we evolve with it. VeriFone's PAYware Mobile e315 accommodates both the Apple® iPhone® 5 and the Apple iPod touch® 5 to create the ultimate mobile POS solution. Ergonomically designed to fit comfortably within any hand, this device features a built-in PIN pad, 2D laser barcode imager and wrist strap that helps guard against dropping. Process any kind of payment—mag-stripe, NFC/contactless, EMV chip and PIN—fast with the high-speed Apple Lightning™ connector. Merchants can depend on the extended battery life to support various usage models along with full communication capabilities of a smart charger that charges the PAYware Mobile e315 and smart device simultaneously.
Customized applications are supported through the VeriFone Mobile Framework. The design offers reliable operation while providing access to other device features such as the back-facing camera, audio jack and other critical controls.
Lead the Retail Revolution
Easily implement a mobile payment solution ahead of competitors
Create a POS in the farthest aisle or outside the store whenever needed
Answer customer questions by checking inventory or prices and closing sales on the spot – minimizing walk-outs
Reduce paperwork time and expense by using smart devices to email receipts
Future-proof mobile POS is ready for all types of payments: EMV, NFC/Contactless
Leading-Edge Design
Provides reliable operation by securely locking onto iPhone or iPod – and offers ready access to the rear-facing camera, audio jack and other critical controls
Takes advantage of high-speed Apple Lightning™ connector for the fastest transaction processing and uses the docking connector to charge simultaneously with the Apple device
Ensures a comfortable fit in any hand – with a wrist strap that guards against dropping and simplifies consumer handover applications
Rugged design withstands the most demanding retail environments and helps it maintain its high-end appearance longer
Feature Rich
Provides extended battery life, up to 12 hours depending on usage model – with up to 120 hours of standby time with an always-on feature
Has a built-in PIN pad and fast-scanning, 2D laser barcode scanner
Smart charger with full communication capabilities, allowing complete estate management and fast charge of PAYware Mobile e315 and iDevice simultaneously
Relies on VeriFone's mobile framework/developer's kit to enable customized applications that are complemented by a full suite of mobile software solutions from GlobalBay, designed to boost productivity and efficiency
Integrates optional VeriShield Total Protect, featuring advanced, end-to-end encryption and tokenization so sensitive cardholder data never enters the mobile device – plus Tamper Resistant Security Module (TRSM) to safeguard encryption keys
Product Specifications
Rent this Product
Need help finding a complete solution?
Call our product experts today!