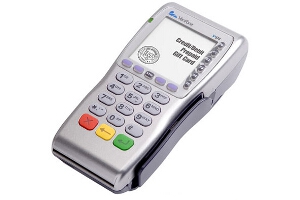 Verifone VX 520 Payment Terminal
Verifone VX 520 Series Payment Terminal
The VX 520 leads the way with unprecedented performance, mission-critical features and more of everything you want in a countertop payment device. More revenue opportunities. Flexible connectivity. Uncompromising security and dependability. All on the proven VX platform.
Proven, Popular Platform — Evolved For Today
Runs on the advanced VX Evolution platform — powered by the time-tested Verix operating system, with over 7 million Verix-based devices sold
Backward compatibility eliminates retraining for sales, support and deployment
Consistency and high usability ensure lower cost of ownership and ease of use
Unparalleled Features Deliver Next Level Performance
Generates new recurring revenues from value-added applications, thanks to an extraordinary increase in memory of 160 MB standard, increasing to over 500 MB
Takes advantage of the industry's fastest processor to handle encryption, decryption and processing at lightning speeds — moving more transactions in the same time for greater profits
Offers a full range of connectivity options with choice of dial, dial and Ethernet, or dial, Ethernet and GPRS – optional battery enables mobility because there are no distance constraints
Uniquely designed communication port area neatly connects cables under the device for clean countertops
Incorporates an integrated contactless reader (optional) into the sleek device
Combines an ergonomic design, small footprint and unique cable management system to optimize handover usage
Reassuring Confidence From Full Spectrum Security
PCI PED 2.0 approval is standard, with the option of PCI PTS 3.0
Provides end-to-end encryption with VeriShield Protect, to maximize protection against fraud and misuse
Superior Value From Extended Life Design
Leverages VeriFone's unmatched reputation for quality with longer-life components to extend the field life of devices and minimize repair frequency
Metal dome keypad design delivers one of the most reliable keypads in the POS industry
Landed smart card reader is built for 5x the life expectancy of friction readers
Product Specifications
Rent this Product
Need help finding a complete solution?
Call our product experts today!