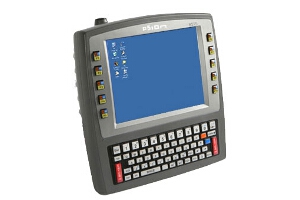 Zebra (formerly Motorola / Psion-Teklogix) 8515 Vehicle Mount Computer
Discontinued
Replaced by: Zebra (formerly Motorola / Psion-Teklogix) VH10 Rugged Vehicle Mount Computer
Zebra (formerly Motorola / Symbol / Psion-Teklogix) 8515 Vehicle Mount Computer
Warehouses and ports. Manufacturing plants and airports. Think tight deadlines and even tighter spaces – especially on the forklifts and trucks themselves. Fixing a bulky computer to these just isn't an option. Unless it's the compact 8515. This rugged, lightweight vehicle mount computer gives you all the intelligence and connectivity you need in a very small package.
Keeping it Tidy
The 8515 works hard and keeps its head down. It never breaks the forklift operators' line of sight. And it never compromises durability or performance. It boasts a razor-sharp, 640 x 480 full-screen VGA color display that supports a large range of applications. And you can read the bright, touch-sensitive display in virtually any lighting.
Its Packed
The Windows®-based 8515 is crammed to the hilt with technology. It features an XScale® processor, together with WiFi and Bluetooth® connectivity. If you want to plug in the peripherals, take your pick. It comes with two USB host ports and one RS232 serial port. So it's more than ready for your bar code scanners, printers and RFID readers. And it's packing a full PC-style alphanumeric keyboard and 10 dedicated function keys which are ergonomically located around the display for flexible and accurate data entry: part of what we call Natural Task Support™.
Talk to Me
The 8515 supports a two way speaker / microphone with Push-To-Talk capability. Use Voice over IP to keep in contact with the truck operator in the warehouse. He can inform you immediately if anything hinders him from being productive.
Where is the 8515 at Home?
Industries

Manufacturing
Ports & Yards
Airports
Warehouses
Need help finding a complete solution?
Call our product experts today!