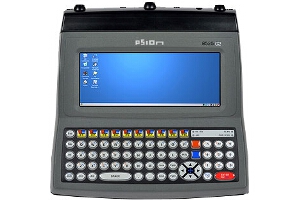 Zebra (formerly Motorola / Psion-Teklogix) 8525 G2 / 8530 G2 Vehicle Mount Computer
Certified Refurbished 8525 G2 Available Now - Call 1-866-271-9891
Motorola / Psion 8525 G2 and 8530 G2 Vehicle-Mount Computers
The Arctic cold chain. Merciless ports. Unforgiving container yards. Busy warehouses. These are some of the most extreme working environments around. Extreme working conditions put workers under immense pressure. They deserve equipment that's as rugged as they are – vehicle mount computers that make their jobs easier, not harder. The 8525 G2 and the 8530 G2 are rugged, vehicle mount powerhouses. They endure the bleakest conditions and always come back for more. They also deliver intelligence and insight where it's needed most: at the mobile worker's fingertips. That's why companies that rely on these industry powerhouses have happier workers and higher productivity. And if you want maximum visual display, that's when the 8530 G2 really comes in to its own. Its large display screen outshines the competition, displaying more information, more clearly.
Too rugged for their own good
The 8525 G2 and the 8530 G2 take ruggedness to new extremes, operating comfortably at temperatures between -30ºC to +60ºC (-22°F to 140°F). Thanks to heated components and exceptional sealing, the 8525 G2/8530 G2 can handle the heavy condensation that occurs when driving from a cold warehouse to a warm receiving dock. They've earned an IP66 rating, so you never worry about dust or moisture causing downtime.
The heart of the powerhouse
The power that comes from forklift truck batteries can be very harsh - high voltage peaks and gaps without power. The 8525 G2 and 8530 G2 are designed with the experience of four generations of vehicle mount computers. The wide-range 10-90V power supply allows installation on any truck without the need for preregulators, additional power supplies or filters or additional cost. You want a vehicle mount computer that still runs while the truck power is off? No problem with the optional internal backup battery of the 8525 G2 / 8530 G2.
The tech package
The 8525 G2 and the 8530 G2 are Windows®-based, so integration couldn't be simpler and application development is a no-brainer. So when your business expands, the technology's ready and waiting to expand with you. Both the 8525 G2 and the 8530 G2 are jammed with technology including the XScale® processor, WiFi, Bluetooth® and narrowband connectivity while a range of external ports allows you to connect to virtually any kind of peripheral. These are no lightweights.
Screen envy
The 8525 G2 boasts an impressive half VGA 640 x 240 (8.8") color touchscreen display, so workers never need to squint again.
As for the 8530 G2 – this is where it really comes in to its own. It's packing a full SVGA 800 x 600 (10.4") color touchscreen display. The display is readable in virtually all lighting conditions – including direct sunlight. Workers, quite simply, love it.
Keyboard options
The 8525 G2 has an integrated keyboard, available in a variety of formats – all with 10 dedicated function keys. The 8530 G2 takes things a bit further. It has a powerful, on-screen virtual keyboard. And if you have more demanding data entry needs, you can always switch to the separate keyboard.
The 8525 G2 / 8530 G2 housing is made from powder coated magnesium that delivers a greater strength-to-weight ratio than aluminum or steel.
Need help finding a complete solution?
Call our product experts today!