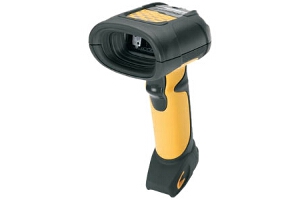 Zebra (formerly Motorola / Psion-Teklogix) LS3400 Laser (1D) Barcode Scanner
Discontinued
Replaced by: Zebra (formerly Motorola / Symbol) LS3408-ER Corded Rugged Handheld Laser (1D) Barcode Scanner
Psion LS3400 Laser Scanner
Flexible and Rugged Family of Hand-Held Scanners Ideal for Tough Industrial Environments
The LS3400 Scanner family consists of four rugged scanners rated at IP65 and suited to scanning 1D bar codes in industrial environments.
LS3408ER: This extended range tethered laser scanner has an exceptionally wide working range from 10cm (4 inches) to 14.6m (45 feet).
LS3408FZ: Fuzzy logic technology allows this tethered laser scanner to read dirty, damaged or poorly printed bar codes from 4 inches (10cm) to 84 inches (213.4cm).
LS3478ER:This cordless extended range laser scanner provides all the functionality of the LS3408ER without the cord.
LS3478FZ:This cordless fuzzy logic scanner is an ideal solution to reading dirty, damaged or poorly printed 1D bar codes.
LS3408ER - Flexible working range up to 45 feet

Rugged ergonomic IP65 sealed industrial design
Bright laser diode ensures precise aiming at long distances
Multiple on board interfaces ensure connectivity to existing devices.

LS3408FZ - Fuzzy logic improves bar code scanning performance

Ergonomic rugged design withstands multiple 2m/6.5 drops to concrete
Supports reduced space symbologies (RSS)
Multiple connectivity options ensure plug and play functionality

LS3478ER - Extended range scanner provides excellent depth of field

Cordless option allows unrestricted bar code scanning
2.4 Mhz Bluetooth radio extends wireless connectivity up to 100 meters
Up to 4 scanners can communicate with a single cradle for maximum efficiency

LS3478FZ - Fuzzy logic cordless scanner provides adaptive scanning of dirty, damaged or poorly printed bar codes

5% to 95% non-condensing humidity allows the scanner to move freely within warm or cold environments
Operating temperature from extreme cold to extreme heat - 20°C to 50°C (-4°F to122°F)
Lithium ion battery is fully charged within 3 hours, limiting unit downtime
Need help finding a complete solution?
Call our product experts today!