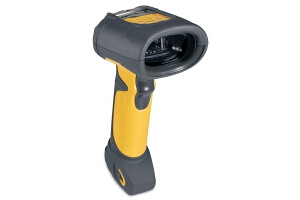 Zebra (formerly Motorola / Psion-Teklogix) LS3578ER Bluetooth Rugged Laser (1D) Barcode Scanner
Discontinued
Replaced by: Zebra (formerly Motorola / Symbol) LS3578-ER Bluetooth Rugged Handheld Laser (1D) Barcode Scanner
Psion LS3578ER Rugged Cordless Scanner
Cordless, Bluetooth Enabled Scanners for the Harshest Environments
The LS3578 series of Bluetooth®-enabled, ruggeThe LS3578 series of Bluetooth®-enabled, rugged scanners offers cordless laser barcode scanning to meet a wide range of Industrial application requirements. Convenient Bluetooth® wireless technology delivers superior, secure and reliable scanning anywhere in the workplace to help boost productivity and profitability while reducing Total Cost of Ownership (TCO). The LS3578-ER provides the greatest scanning range of any available rugged scanner, scanning items from as close as 4 inches (10 cm) to as far away as 45 feet (13.7 m) while the LS3578-FZ features fuzzy logic scanning technology for reading damaged, poor quality or hard-to-read 1D barcode labels in the most rugged industrial environments. Finally, both models are ergonomically designed for optimal ease of use during long shifts and are built to withstand everyday use in the most demanding environments.
Integrated Bluetooth® Technology

The LS3578 series cordless scanners provide reliable and secure wireless data transmission between the scanner and host; including Psion Teklogix Vehicle Mount and Hand held computers
Integrated Bluetooth eliminates need for base station and cable and offers lower TCO

Wide Scanning Range

Reduces Worker Fatigue and Increases Productivity

LS3578-ER scans items as far as 45 feet and as close as 4 inches
Bright laser diode (both models) ensures precise aiming at long ranges

High Performance Scanners with Fuzzy Logic Decode

LS3578-FZ features fuzzy logic technology for accurate and fast reading of all 1D barcodes including poorly printed, damaged, dirty and low contrast barcodes
Also supports reduced space symbologies

Cordless Scanning

Offers True Mobility and Increases Productivity and Efficiency

Cordless option allows for unrestricted barcode scanning and reduces downtime that typically results from equipment breakdowns
Provides real time, mobile barcode data collection

Essential Ruggedness

Withstands everyday use in the most rugged environments
Withstands drops from 6.5 feet to polished concrete
Includes an IP65 rating, protecting against dust and impervious to water sprayed from all directions.
Ergonomic design delivers optimal comfort during long shifts

Typical Applications

Ports & Container Yards
Warehousing & Distribution
Airports
Manufacturing Plants
Need help finding a complete solution?
Call our product experts today!