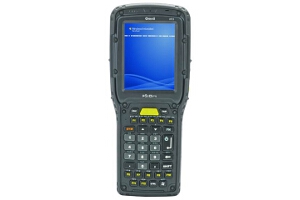 Zebra (formerly Motorola / Psion-Teklogix) Omnii XT15 Wireless Rugged Handheld Mobile Computer
Zebra (formerly Motorola / Symbol / Psion-Teklogix) Omnii XT15 Mobile Computer
Building on the unique adaptability of the proven Zebra Omnii™ platform, the all-new Omnii XT15 Series raises the bar even higher to deliver the highest levels of ruggedness and functionality. With the open source business model — giving you the flexibility and freedom to adapt your device with exactly what you need — and certified IP67 and IP65 rating, the Omnii XT15 Series delivers reliable performance and unparalleled adaptability for the most demanding of environments and applications.
Adaptability Gives you More
The Omnii™ XT15 is uniquely adaptive by design — combining extreme versatility with open innovation to deliver the flexibility you require to adapt as your business needs change. As the next evolution of the Omnii platform, the Omnii XT15 takes the best features of the Omnii XT10 and adds new functionality to create a device that gives mobile workers the greatest access to business applications — anytime, anywhere. With its certified IP67 and IP65 rating, the Omnii XT15 delivers reliable performance and unparalleled adaptability for the most demanding of environments and applications. Find out why Omnii XT15 is the ultimate supply chain handheld solution.
Technology made tough
The Omnii XT15 comes with the option of Windows® CE 6.0 or Windows® Embedded Handheld 6.5 operating systems, both of which integrate seamlessly to automate key processes and boost productivity in real-time. Plus, it is certified IP67 and IP65 so it will work wherever you take it.
Field-upgradeable adaptability
Omnii XT15 is always fit for purpose, so you can configure it the way you want and later bolt on what you need. This allows for future-proof flexibility as hardware can be reconfigured — and not replaced — saving your business up to 30% on lifetime total cost of ownership.
Optimized erognomics
Ergonomics are crucial to ensuring mobile workers are efficient and effective on their jobs. The Omnii XT15 features a balanced construction that is perfectly weighted for comfort, practicality and Natural Task Support. Furthermore, Omnii XT15 is equipped with Kiosk Mode software and transflective touch screens that enable a friendly user interface.
Rugged design for superior reliability and TCO
With a dual IP65 and IP67 sealing rating, workers can spill water on or even drop the device in a puddle of water — or work out in the pouring rain. And even a 6.5 ft./2 m drop to concrete won't impact operation.
Flexible wireless connectivity options
Only Zebra allows you to choose between cellular, Wi-Fi or Narrowband wireless connectivity, bringing you the most wireless options in one device. Support for 802.11a/b/g/n Wi-Fi provides compatibility with virtually any wireless LAN and plenty of bandwidth to support the modern graphical user interfaces of today's demanding applications. Narrowband support provides robust, affordable and secure wireless connectivity for simple data transactions in expansive outdoor areas such as seaports, rail yards, airports and expansive outdoor yards in manufacturing plants. And support for GSM/GPRS/EDGE and HSPA+ provides fast and reliable connectivity for field workers all around the world.
Real-world practicality
Zebra understands how to make mobile workers more productive in the harshest of environments and we have designed all elements of the Omnii XT15 to reflect that expertise. Built with the Texas Instruments® OMAP3 microprocessor and a designed Custom ASIC architecture, Omnii XT15 delivers industry-leading performance and efficiency with an extended battery life of up to 20 hours. The 3.7 in. VGA color display allows for improved worker visibility and the 95db keypad beeper with vibration feedback is perfect for loud industrial environments.
Where is the Omnii™ XT15 at Home?
Warehousing
Manufacturing
Distribution & Logistics
Utilities
Transportation & Logistics
Need help finding a complete solution?
Call our product experts today!