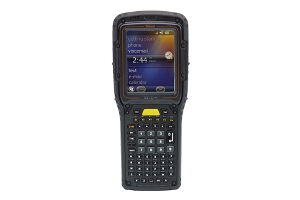 Zebra (formerly Motorola / Psion-Teklogix) OMNII XT15ni Non-Incendive Handheld Mobile Computer
Motorola / Psion OMNII XT15ni Handheld Mobile Computer
The Omnii™ platform is uniquely adaptive by design – combining extreme versatility with open innovation to deliver flexibility businesses require to adapt as their needs change. The Omnii XT15ni is the next evolution of the Omnii platform and is designed for the specialized needs of those requiring safe operation in hazardous environments.
The Omnii XT15ni is UL-certified to be non-incendive, providing mobile workers with a rugged handheld device that safely operates in hazardous areas found in pharmaceutical, oil & gas, utilities, chemical and various manufacturing applications. Furthermore, it takes the best features of the Omnii platform to give mobile workers the greatest access to applications and allow businesses to deploy one mobile solution across an entire base of users.
Technology made tough
The Omnii XT15ni comes with the option of Windows® CE 6.0 or Windows® Embedded Handheld 6.5 operating systems, both of which integrate seamlessly to automate key processes and boost productivity in real-time. Plus, it is certified IP67 and IP65 and UL-certified to be non-incendive (Class I, Division 2, Groups A,B,C,D; T6) to make it one of the most rugged handheld devices ever made. So you can be sure it will work wherever you take it.
One Common Platform For Your Mobile Solution
The Omnii XT15ni is built on the proven Omnii platform, meaning it can share the same software and accessories, as well as the majority of options such as imagers, Push-to-Talk speaker, camera, WWAN radio and keyboards as the Omnii's already deployed across your SCL operation.
Real-World Practicality
The Omnii XT15ni was designed to help make mobile workers more productive in the harshest of environments. Built with the Texas Instruments® OMAP3 microprocessor and a Motorola designed custom ASIC architecture, Omnii XT15ni delivers industry-leading performance and efficiency with an extended battery life of up to 20 hours. The 3.7" VGA color display allows for improved worker visibility and the 95db keypad beeper with vibration feedback is perfect for loud industrial environments.
Safety First
When working in hazardous environments, it is crucial workers use the right handheld for safe operation. The Omnii XT15ni features a bright orange stripe on the bezel and orange battery cover, making it easily identifiable from standard Omnii handhelds to ensure your mobile workers quickly and safely grab the right device for the job.
Optimized Erognomics
Ergonomics are crucial to ensuring mobile workers are efficient and effective on their jobs. The Omnii XT15ni features a balanced construction that is perfectly weighted for comfort and practicality. Furthermore, Omnii XT15ni is equipped with PsionVU software and transflective touch screens that enable a friendly user interface.
Need help finding a complete solution?
Call our product experts today!