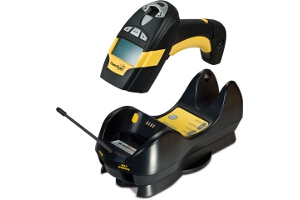 Zebra (formerly Motorola / Psion-Teklogix) PowerScan M8300 Cordless Handheld Barcode Scanner
Discontinued
Replaced by: Datalogic PowerScan PM8300 Wireless Industrial Handheld Laser (1D) Barcode Scanner
Psion PowerScan M8300 Handheld Barcode Scanner
Rugged, Corded and Cordless Industrial Laser Barcode Scanners
The PowerScan® 8300 Scanner series offers corded and cordless laser barcode scanning to meet a wide range of rugged industrial application requirements.
Superior reading performance is enhanced by Puzzle Solver™ Technology for fast and accurate reading of standard, poorly printed or damaged bar codes. Standard range and auto-range optic options, combine with multiple good-read feedback features ensure productivity. The PowerScan M8300 delivers extended flexibility and reliable mobility with seamless roaming and point-to-point and multi-point transmission. Finally, both models are ergonomically designed, lightweight and well balanced ensuring optimal operator comfort during scan intensive operations.
Ergonomic Design

Ergonomic handle and balanced weight ensure optimal comfort and productivity
Green Spot feature provides "good read" feedback to the user directly on the barcode (up to 2.6 - 3 ft / 80 - 90 cm)

Superior Performance & Productivity

Standard range (contact up to 3ft / 1m) and auto-range (4 in to 33 ft / 10 cm to 10 m) optic options available
Puzzle Solver™ Technology enables fast and accurate reading of standard, poorly printed or damaged barcodes.
Built-in multiple interface (RS-232, Keyboard Wedge, Wand and USB) for flexible installation and configuration
Seamless roaming and support for point-to-point and multi-point transmission.

Essential Ruggedness

Rubber overmold protects against shock, abuse
Withstands multiple drops and extreme shock conditions ( up to 50 drops from 6.5 ft /2 m)
Includes IP65 (without display) and IP64 rating (with display), protecting against dust and water
Operating temperature range of -22 °F to +122 °F (-30 °C to +50 °C)

Typical Applications

Work-In Progress Control
Warehouse Management
Shipping and Receiving Control
Cash and Carry Retail Applications
Forklift Warehouse Applications
Need help finding a complete solution?
Call our product experts today!