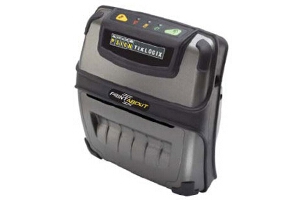 Zebra (formerly Motorola / Psion-Teklogix) Printabout Mobile Barcode Printer
Discontinued
Replaced by: Direct Replacement Not Available - Contact Us For Suggested Replacement
Psion Printabout Mobile Printer
Print Anywhere With No Hassle
The PRINTABOUT thermal printer combines ruggedness with infinite application possibilities. Designed specifically for Mobile Sales, Field Sales and Public Safety applications, the PRINTABOUT is perfect for all 3" and 4" receipt, work order, or ticket printing needs. PRINTABOUT printers are available in cabled and Bluetooth® versions.
The easy to use, portable, compact direct thermal printer makes it possible to be more efficient and productive. Psion PRINTABOUT gives mobile workers the ability to print up-todate work records, receipts, invoices and more while working in the field. The easy-to-read control interface and simple drop-in paper loading make it painless to use in a fast paced environment.
Psion PRINTABOUT printers are great when workers need to stay focused on their job, not their printers. That's why the PRINTABOUT is engineered to create crisp, professional looking field service and field sales documents automatically and reliably.
The PRINTABOUT, with an optional magnetic card reader (MCR), also enables real-time credit card payments. With a compact and lightweight design, the PRINTABOUT can be conveniently stored in any vehicle while remaining trouble-free to carry. One day on the job will convince you – Psion PRINTABOUT takes mobility and ease of use to a whole new level.
Increase Productivity in a Small Package

Psion PRINTABOUT thermal printers are 10% smaller and 40% lighter than the competition, providing mobile workers with a compact, lightweight, and comfortable thermal printer that increases efficiency and productivity.

Essential Ruggedness

Mobile environments are unpredictable, so it is inevitable the tools you provide your mobile workers will take a beating in such applications as Mobile Sales, Field Sales and Public Safety. It is therefore a necessity that these tools are built with the essential ruggedness to withstand the beating of mobile environments.
The PRINTABOUT thermal printer has an IP54 rating for water and dust resitance which ensures your workers will have limited downtime during their workshift.

Robust Built-In Functionality

Psion PRINTABOUT thermal printers are packed with features. Easy-to-read control interface and simple dropin paper loading, automated capture of credit card/license information in the field, and high-speed signature printing are functionalities that contribute to making the jobs of your mobile workers easiers and more productive.

Expand As Your Needs Grow

The PRINTABOUT is equipped with an Exclusive Universal Port to allow for cabled applications and add-on peripherals so you can increase the functionality of your printers as your needs change in the future.
Need help finding a complete solution?
Call our product experts today!