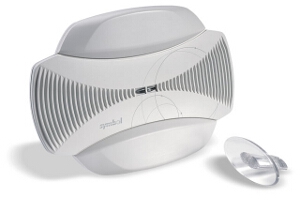 Zebra (formerly Motorola / Symbol) AP200 Wireless Switch System
Discontinued
Replaced by: Zebra (formerly Motorola / Symbol) AP300 Access Point
Motorola / Symbol AP200 Wireless Switch System
Next-Generation Access Points: More Functionality at a Lower Cost. Powerful Enterprise-Level Next-Generation Wireless Technology
Access Ports are a key component of Symbol Technologies' award winning Wireless Switch System, the second-generation wireless LAN architecture that does more, yet costs less. Working in conjunction with Symbol's Wireless Switch 5000 and Wireless Switch 2000, Access Ports deliver robust and feature rich IEEE 802.11a, 802.11b, and 802.11a/b wireless LAN connectivity (802.11a/b/g available soon). Access Ports substantially reduce the cost of deploying, implementing and managing a wireless LAN, while significantly increasing features, functionality and security of the wireless LAN infrastructure.
More Functionality for a Fraction of the Cost of Access Points
Access Ports are much leaner and only a fraction of the cost of first generation WLAN access points, due to the centralized architecture of Symbol's Wireless Switch System. Access Ports connect to a centralized processing and switching engine that resides in the WS 5000 and WS 2000 Wireless Switches via standard 100BaseT cabling—just as the access point connects to an Ethernet hub or switch. But unlike the access point, features, functionality, security and management are all centralized in the Wireless Switch, effectively allowing the Access Ports to become zero configuration devices. Maintenance and management, required for each and every Access Point, is effectively eliminated. Access Ports, once verified as an authorized network device, obtain initial configuration information as well as ongoing updates automatically from the Wireless Switch. Advanced radio processing ensures the most robust wireless performance and range, even in the most demanding environments.
The result is a wireless LAN that delivers the most value— more functionality, low cost and high investment protection. Operational costs are reduced through centralized management. The leaner, less expensive hardware reduces capital expenditures, and the ability to upgrade features centrally on the switch future-proofs your investment.
Symbol's family of Access Ports, in conjunction with the Wireless Switch, offers increased functionality with a comprehensive array of features, including:
Mobility Features
A variety of features ensure peak performance for mobile devices, such as Pre-emptive Roaming, which ensures that devices roam prior to signal degradation for continual operation of critical applications.
Transmit Power Control
Access Ports are capable of automatically adjusting the transmit power per the 802.11a specification, enabling Access Port and mobile client (laptop, PDA, etc.) to agree on a common level of transmit power.
Dynamic Frequency Selection
Dynamic Frequency Selection and Radar Detection and Avoidance per the 802.11a specification enable Access Ports to automatically detect channel conflicts with other Access Ports, dynamically selecting an alternate channel to avoid interference.
Quality of Service (QoS)
Traffic can be prioritized to ensure that critical data traffic—such as voice or a sales application—always have priority over less important traffic such as email.
Load Balancing
Proactively and dynamically distributes mobile clients between access ports to prevent overload as well as degradation of service, ensuring a fast continual wireless connection for users.
Service Fairness
Ensures that all wireless LANs (separate broadcast domains) have appropriate bandwidth to maintain the required service levels.
Mobile Device Management
Provides a wealth of information on mobile clients connected to the wireless network, including rate of throughput, signal strength, power saving mode, security and authentication states, enabling easier management and faster trouble shooting.
Centralized Security
Centralized authentication and encryption provides simpler more cost-effective management of security functions and policies without compromising roaming performance.
Internal and External Antenna Options
The flexibility to select from a complete suite of 802.11a and 802.11b antennas enables coverage patterns to be customized to achieve continuous wireless connectivity—even in the most challenging environments.
Full 12-Channel Bandwidth
The ability to utilize all 12 channels provides full access to 802.11a bandwidth, minimizing interference between adjacent Access Ports, and enabling peak network performance and the most flexible wireless LAN design.
True Plug-and Play
Symbol's Access Ports are operational right out of the box. Unlike traditional access points, there is no time consuming configuration required—it is automatically downloaded from the Wireless Switch, dramatically reducing the complexity and time required for installation, while eliminating the need for ongoing management of individual devices.
Simple to Install Anywhere
Typically, installation of access points represents a large portion of the cost of a wireless network. However, Symbol's Access Ports can be installed nearly anywhere in minutes, even in areas where power is not available.
The plenum-rated housing provides complete flexibility for installation anywhere—desktops, wall-mount, or ceiling-mount— above or beneath the ceiling tile. When installed above the ceiling tile, an easily visible LED enables you to visually check on the status at any time. Access Ports can be installed in a wide range of environments—from inside corporate offices to the warehouse and manufacturing floor to the loading dock or refrigerated environments—providing wireless connectivity to all types of users across industries.
The 802.3af compliant Access Ports can be powered via the Ethernet Port with Symbol's Power Injectors or any standardbased 802.3af switch for fast, easy installation, even in areas without outlets. The need to install expensive lines and outlets—up to $1500 per outlet—is eliminated, effectively reducing deployment costs. And the ability to daisy chain one Access Port to extend Power-over-Ethernet (POE) to another Access Port further reduces costs. Symbol offers a complete line of 802.3af Power Injectors, with models that provide POE for one to 12 Access Ports for switches that do not support standardsbased POE.
Virtual AP Enables True RF Virtual LANs (VLANs) for Better Device and Network Performance
With Virtual AP, each Access Port can support four separate wireless broadcast domains—functionality that would otherwise require the installation of four first-generation access points. These true wireless VLANs enable separation of mobile end-users, ensuring that broadcast traffic, including network-level ARP messages, reaches only those recipients for which it is intended. Overall network traffic is reduced, network and device performance is improved, and device battery life is increased—at a fraction of the cost required to deliver the same functionality in a first generation access point-based network.
Each Access Port supports four BSSIDs (Basic Service Set Identifiers) and 16 ESSIDs (Extended Service Set Identifiers), enabling granular segmentation of the wireless LAN into multiple broadcast domains to meet specific enterprise needs. Typical access points support only one BSSID, utilizing ESSIDs (instead of BSSIDs) to create VLANs. In the diagram below, four ESSIDs are utilized to create separate wireless LANs for students, faculty, guests and visitors, and facilities. However, since the single BSSID of any access point is automatically adopted by all associated client devices, broadcast traffic, which is sent to a specific BSSID, reaches the users of all 4 wireless LANs. Messages intended for faculty only reach students as well as guests and visitors and facilities— regardless of the ESSID identifier. The resulting increase in traffic reduces throughput and bandwidth, forces client devices to waste battery power processing unnecessary traffic, and potentially compromises confidentiality and security.
Maximum Communication Range
Advanced radio processing (multi-path) capabilities,
custom-designed high-gain 3.5 dBi omni-directional
cross-polarized diversity internal antennas and an array
of external antenna options combine to deliver the most
robust wireless performance and coverage possible—regardless
of how challenging the environment is, or where Access Ports
are mounted (on a desk, wall or above or beneath the ceiling).
Always Up to Date with the Latest Features and Functionality
To update Access Ports with new features and functionality, simply update the software in the WS 5000 and WS 2000 Wireless Switch. The new features and functionality are automatically distributed to each Access Port—there is no disruption of your wireless LAN, and the need to update each access point individually is eliminated.
Tamper-Proof
Access Ports provide an additional layer of security. Network configuration parameters reside in the Wireless Switch, and are downloaded into the volatile memory of the Access Port only when the Access Port is verified as an authorized network device and powered on. If an intruder takes an Access Port offline in an attempt to obtain configuration information, the parameters are lost, reducing the risk of tampering and theft of confidential network parameters.
Easy to Manage
With management centralized in the Wireless Switch, managing a group of Access Ports—no matter how large—s as simple as managing a single Access Port. Centralized configuration in the Wireless Switch allows distribution of configuration changes and updates to all Access Ports, eliminating the many hours required for configuring and managing individual devices in an access point-based wireless LAN network.
AP 100 with Integrated Internal Antenna
802.11b Access Port
The AP 100 brings the power of IEEE 802.11b Wi-Fi® compatibility to your wireless LAN for true interoperability. The compact and innovative industrial design of the AP 100 provides the flexibility for installation on desktops, walls, above or beneath ceilings. Regardless of where the AP 100 is installed, LED lights are easily visible, providing visual feedback of the state of the Access Port.
The integrated (internal) 3.5 dBi omni-directional cross-polarized diversity antenna provides the strongest wireless coverage possible, regardless of how the Access Port is mounted. And since the AP 100 receives its firmware from the WS 5000 or WS 2000 Wireless Switch, the cumbersome, time consuming and error prone process of loading traditional access point firmware is eliminated.
AP 100 with External Antenna Options
802.11b Access Port
While the Access Port 100 with integrated antenna provides ample RF coverage for most installations, the AP 100 with external antenna options enables the customization of wireless LAN coverage patterns to ensure wireless connectivity in the most challenging areas of your network. For example, warehouses may contain areas with materials that RF cannot penetrate; the aisles in retail environment may cast shadows where RF coverage would not be available.
While these types of environments would typically require additional Access Ports to provide adequate coverage, the AP 100 with external antenna options enables the customization of the wireless LAN coverage pattern for those hard-to-reach areas. Standard antenna connectors, provided in lieu of the integrated internal antenna, enable selection of the right antenna from Symbol's complete line of 802.11b antennas and accessories, providing the flexibility you need to deliver costeffective wireless coverage anywhere in your network.
AP 200
802.11a/b Access Port
The AP 200 is the most flexible Access Port product available, delivering three industry firsts: the ability to accommodate mixed 802.11 technologies, support external antennas and access all 12 channels. The ingenious modular design offers excellent investment protection and cost-effective support for a wide variety of applications, including data, voice and video. The option to select either integrated or external antennas enables the design of coverage patterns to meet the needs of the any environment—and the AP 200 is the only product on the market that can accommodate external antennas. And support for all twelve 5 GHz channels (with integrated 802.11a antennas) delivers maximum bandwidth and enables the wireless LAN to be designed to eliminate interference between mobile devices.
The AP 200 supports IEEE 802.11a and 802.11b, with extensible support for 802.11g. The base unit provides integrated 802.11a support, and 802.11b support is easily added via a snap-on module. The internal 802.11a omni-directional cross-polarized diversity antennas provide strong wireless coverage, regardless of where the Access Port is mounted. The two AP 200 models allow you to select either internal antennas or external antenna connectors. While most environments need only the coverage of an internal antenna, the AP200 offers an entire suite of 802.11a and 802.11b external antennas to customize coverage patterns and increase coverage range as needed, ensuring wireless connectivity in the most challenging environments.
The AP 200 can be installed anywhere—on desktops, walls, and above or beneath ceilings. Regardless of where it is installed, LED lights are easily visible, providing clear visual feedback of the type of radio in use and the state of the Access Port. The internal antenna module provides access to all three UNI bands*, which provides access for the first time to all twelve 5 GHz ISM band channels. The resulting flexibility enables the design of wireless networks without overlapping channels, protecting users from experiencing general deterioration of wireless network performance due to interference from others on the same frequency.
Tight integration with the WS 5000 and WS 2000 wireless switch, which centralizes intelligence to the Access ports

Enables easy addition of features and functionality; ability to expand the wireless LAN without disrupting wireless service

Compact, aesthetic design with flexible mounting options

Enables mounting on a desk, on a wall and on the ceiling—above or below ceiling tiles

Plenum rated housing

Meets fire retardant standards to ensure safe installation in ceilings and other enclosed areas throughout your enterprise

Tamper-proof hardware and software design

Prevents theft of network configuration parameters, without sacrificing flexibility of mounting, even in unsecured areas

Standards-based 802.3af Ethernet compatibility

Significantly reduces installation cost and complexity by eliminating the requirement to extend AC or DC power to the Access Port

No configuration required

True plug-and-play right out of the box

Internal and external high power antennas; integrated 3.5 dBi omni-directional cross polarized diversity antenna or external antenna connectors and suite of 16 antennae

Reduces cost and time of installation; provides the flexibility to modify wireless coverage patterns and increase wireless range as needed in challenging environments

Visible status LED color-coded to IEEE specification. Blue for 802.11b,Amber for 802.11a

Easy viewing of Access Port status—even when mounted above the ceiling tiles

No local firmware to manage (provided by the WS 5000 or WS 2000 Wireless Switch)

Eliminates the cumbersome, time consuming and error prone process of loading traditional access point firmware

Centralized wireless LAN packet packet processing offloaded to the Symbol's WS 5000 Wireless Switch

Leaner product design, resulting in significant reduction in hardware and management costs; provides a scalable growth model

Multi-BSS and Multi-ESS capability

Ensures highly efficient use of the wireless network by providing multiple Broadcast/Multicast Domains and a true virtual Wireless LAN experience

Two built-in Ethernet ports (in AP 200)

Enables connection or 'daisy-chaining' of additional Access Ports; reduces cost of extra cabling when upgrading an existing 802.11b Wireless LAN infrastructure
Need help finding a complete solution?
Call our product experts today!