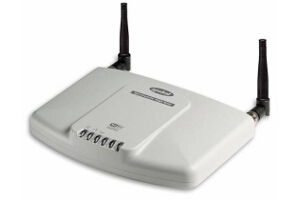 Zebra (formerly Motorola / Symbol) AP4131 Wireless LAN
Discontinued
Replaced by: Extreme Networks (formerly Zebra / Motorola) AP 5131 Access Point
Motorola / Symbol AP4131 Wireless LAN
Enterprise Wireless Networking with More Security, Power and Memory for High-Performance Mobility
IEEE 802.11b Ethernet-Speed Connectivity for High Performance Wireless Mobile and Portable Computing
Symbol Technologies' Spectrum24® High Rate 4131 Access Point provides wireless LAN performance required for advanced mobile networking and business-critical wireless voice and data application support, including 10/100 Base-T Ethernet connectivity, the industry's most open and advanced security solution, and the Motorola 855T processor.
Operating in the 2.4 GHz band at speeds up to 11 Mbps, Spectrum24 High Rate mobilizes today's fast-paced workforce with instant, secure wireless access to corporate intranets, and the Internet—while eliminating the expense and time of wiring when your information system requirements call for temporary and ad hoc networking. The result is greater productivity, improved communications, and better customer service.
Scalable Connectivity for Laptops, PDAs, Desktop and Mobile Clients
The Spectrum24 High Rate 4131 Access Point supports up to 127 clients with Wi-Fi™ certified 802.11b client cards, including Symbol's PC and CompactFlash™ format Wireless Networker™ cards for laptops and PDAs, and Spectrum24 High Rate Universal Serial Bus for desktop and other USB-enabled equipment.
Mobile voice and data devices with embedded wireless connectivity cards also communicate with the Spectrum24 High Rate 4131 Access Point. Adding more access points scales your Spectrum24 High Rate wireless LAN to support additional users.
Symbol MobiusGuard™ : Multi-Option Security Including Kerberos and KeyGuard™ for Advanced Data Protection
The Spectrum24 High Rate 4131 Access Point features MobiusGuard, Symbol's comprehensive security suite designed to meet mobile data protection requirements including: industrystandard 40 and 128 bit WEP encryption; KeyGuard, Symbol's TKIP encryption implementation based on the forthcoming 802.11i standard; Kerberos V5 based mobile security; EAP/TLS with 802.1X port-based Network Access Control; RADIUS; or a combination of these choices.
Security intelligence in the 4131 Access Point also detects the presence of unapproved access points on your network as a potential security breach. For protection against "man-in-themiddle" and denial-of-service attacks, the 4131 Access Point detects the presence of hackers' rogue and unauthorized access points close to your facilities.
Public/Private WLANs and Class/Priority of Service with Wireless VLANs
Symbol's 4131 Access Point supports the capability of multiple Extended Service Set Identification (ESSID), which, when mapped to a wired VLAN, extends VLANs to a wireless network. Network administrators can now support multiple user types based on class-of-service, security type and QoS required, all on the same 4131 Access Point. This feature supports both 802.1p/Q standards.
Dynamic Rate Scaling, High-Speed Roaming for Maximum Range and Throughput
The Spectrum24 High Rate 4131 Access Point dynamically rate scales, transmitting data at 11 Mbps then automatically scaling to 5.5 Mbps, 2 Mbps, and 1 Mbps to ensure best range and throughput. As signal strength decreases, the transmit rate also decreases, ensuring maximum range while maintaining data integrity. Highspeed roaming additionally ensures Spectrum24 High Rate clients seek the best possible data rate for fastest throughput.
Mobile IP, International Roaming
Mobile IP functionality allows the 4131 to seamlessly roam across routers as clients physically move from one subnet to another. This ensures uninterrupted connectivity as associates move throughout your facility. Support of the IEEE 802.11d standard for international roaming enables simple, easy operation for international use—the 4131 Access Point automatically adjusts to local country and regulatory requirements.
Plenum-Rated Metal Housing
Plenum-rated, the 4131 Access Point meets fire retardant standards for placement in ceilings and other areas throughout your facilities.
Bandwidth Management and Quality of Service
The 4131 features a packet engine for classifying video, voice and data, and Quality of Service manager for packet prioritization. Class of service solutions enable organizations to protect multimedia applications and contain those that are less urgent.
SNMP V3 for Secure Management; Tools for Easy Administration
The Spectrum24 High Rate 4131 Access Point is administered using SNMP v2, HTTP, Telnet and Serial UI. Plus the 4131 Access Point features SNMP V3, providing enhanced network management security. Administration is supported with a number of bundled management tools for quick install, maintenance, and upgrade. In addition, you can manage your entire WLAN installation using Symbol's suite of wireless management tools, including software for monitoring and controlling network activity and performance.
Cost-Effective, Easy-to-Deploy Power for Wireless Access Points
The Power-over-Ethernet Hub from Symbol Technologies delivers operating power and data to 4131 Access Points via standard Category 5 Ethernet cable, eliminating the need for 110/220 volt AC cable and power converters at each access point location. This significantly reduces cabling and outlet requirements.
Selection of Antennas
Symbol's selection of high-performance omni-directional (360°) and directional (20° to 90°) antennas provide different coverage patterns to meet site, application and power requirements.
End-to-End Wireless Mobility—Just Add Symbol. And Go.
The Spectrum24 High Rate family is the industry's leading, comprehensive end-to-end wireless LAN solution. Only Symbol combines access points, client connectivity cards, ruggedized mobile voice and data devices and network management software as well as wireless mobility planning and deployment services for high-performance mobility solutions. This unique combination of benefits enables your organization's end-to-end wireless mobile computing strategy and optimizes the capture, computing and communication of data crucial to business decision-making and success. All you have to do is Add Symbol. And Go.
11 Mbps direct sequence (DS) high data rate transmission

Supports bandwidth-demanding applications and high-speed data transmission

IEEE 802.11b compliant; Wi-Fi certified

Ensures interoperability among other Wi-Fi certified wireless systems for investment protection and system architecture flexibility

High-Speed Roaming

Seeks best possible data channel for fastest throughput

Automatic Data Rate of 11, 5.5, 2 and 1 Mbps

Optimized throughput, range and connectivity

MobiusGuard™, Symbol's Multi-Mode Security Suite: industry standard 40 and 128 bit WEP encryption; KeyGuard™, Symbol's TKIP encryption implementation; Kerberos V5 based mobile security; EAP/TLS; RADIUS; or combination

Security options to meet mobile data and network protection requirements

Kerberos V5 Open Security Standard based on the Network Authentication Protocol developed by MIT

Supports an enhanced level of security for mobile environments; easy to implement; operating system and application independent

KeyGuard: Symbol's implementation of the Temporal Key Integrity Protocol (TKIP) security feature based on the forthcoming 802.11i standard

Addresses known weaknesses in WEP and provides virtually unbreakable encryption

Bandwidth Management Packet Engine

Packet engine classifies video, voice and data for throughput prioritization based on customer's requirements

Quality of Service Manager

Prioritizes packages for throughput; enables organizations to protect multimedia applications and contain those that are less urgent

IEEE 802.11d International Roaming

Easy operation for international use—simply select the country of operation and the 4131 Access Point automatically adjusts to local country and regulatory requirements

Point-to-Point Wireless Bridging

Seamless bridging between separate Ethernet networks which enables connectivity without cables

Automatic Transmit Power Control

Control of transmitted power to minimize interference in smaller cells

Mobile IP

Enables multiple users to roam across routers/subnets and between cells for uninterrupted connectivity

System-wide upgrades from a single access point, via Flash memory accessible by HTTP, serial, Telnet

Fast and easy access point maintenance and upgrades

Event logging, data packet tracing, SNMP alarm generation, operating statistics, protocol and bandwidth filters for optimum network management

Diagnostic capabilities for simplified, optimal network management

Plenum-rated metal housing

Fire-retardant housing is safe to deploy in ceilings and other locations

Interference mitigation, multiple types: auto channel select; Bluetooth co-existence, RF interference

Ease of deployment and reliability by mitigating interference caused by other 802.11b systems, Bluetooth, or 2.4GHz cordless phones

Need help finding a complete solution?
Call our product experts today!