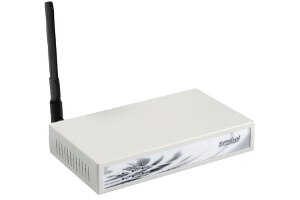 Zebra (formerly Motorola / Symbol) CB3000 Wireless Bridge
Discontinued
Replaced by: Extreme Networks (formerly Zebra / Motorola) AP 6522 Dual Radio 802.11a/b/g/n Wireless Access Point
Motorola / Symbol CB3000 Wireless Bridge
Simple, Cost-Effective High Performance Wireless Connectivity for Printers, Point-Of-Sale and Ethernet-Enabled Devices
The CB3000 provides a robust wireless connection for your Ethernet-enabled devices — from printers, scales, medical equipment, and manufacturing machinery to time clocks, point-of-sale devices and more. The need to extend wiring is eliminated, reducing the cost and complexity of deployment for devices without a PCMCIA or PCI card slot. And the ability to update the firmware provides the investment protection you need, ensuring that the CB3000 meets your networking needs today as well as tomorrow.
Increase Productivity Throughout Your Enterprise
The CB3000 allows you to cost-effectively extend the availability of applications, devices, and real-time data, resulting in a productivity increase throughout your enterprise. The ability to move information from time clocks directly into your payroll application eliminates time spent manually processing time cards. The ability to collect statistics from manufacturing machinery enables early identification and resolution of equipment problems — before they impact yield. And the wireless connection enables network changes to be executed quickly and easily, as needed — for example, to connect point-of-sale devices to support a sale in a specific area of the store.
Easy to Deploy and Manage with Enterprise Functionality
The CB3000 offers the simplicity of true plug-and-play deployment — minimal configuration is required. Your wireless client devices enjoy uninterrupted connectivity — the CB3000 can easily roam to another access port or access point as needed. And a secure internal web server provides the convenience of anywhere anytime management through any standard web browser.
A Secure, Reliable, Easy-to-Move Connection
The CB3000 provides the enterprise-class security you need — advanced encryption and authentication mechanisms protect your network and data from unauthorized users. And wireless connectivity offers maximum flexibility. Equipment can be easily moved as needed to accommodate seasonal requirements as well as line and staffing changes, without the time and expense of re-wiring.
Connect Up to 16 Devices in Nearly Any Environment
The robust mechanical design and support for a wide range of temperatures delivers reliable performance throughout your enterprise, from your front office to the retail, warehouse or factory floor. And when used in conjunction with an Ethernet hub, a single CB3000 can connect up to 16 client devices to your Motorola wireless switches, access ports and access points, making the CB3000 an outstanding value.
An Ideal Companion for Your Mobility Solution
The CB3000 — a flexible and very economical wireless connection enabling the movement of data to and from many types of devices, with the reliability, performance and security you expect in Motorola enterprise mobility solutions. Motorola Enterprise Mobility Services also offers the comprehensive support and technical expertise you need to design, deploy and maintain the most successful mobility solutions.
POS Protocol Support: RPL, PXE; Limit one RPL or PXE terminal per bridge
Standards: IEEE 802.11a/b/g; IEEE 802.3; IEEE 802.1d; 802.11i; 802.11h (DFS/TCP); HTTPS
Supported Devices: Windows-based PCs equipped with Ethernet cards; point-of-sale devices; network printers; thin clients; Mac/Apple machines; Linux/ Unix workstations; Ethernet-enabled appliances; and/or mix of all devices listed
Device Manager: Windows 2000, Windows XP
Approved Antennas: ML-2452-APA2-01R 3dBi/4dBi Dual Band Omni-Directional (included)ML-2499-HPA3-01 5 dbi 802.11b/g Omni-DirectionalML-2499-SD3-01 Patch antenna, 3 dBi, 2.4 GHzML-2499-BYGA2-01 Yagi bridge antenna, 15 dBi, 35 deg beamML-5299-HPA1-01 Omni Antenna, 5 dBi, 5 GHzML-5299-WPNA1-01 Wall Mounting Panel Antenna, 5 GHz
Radio Sensitivity (minimum): 802.11b 1 Mbps – 97 dBm2 Mbps – 93 dBm5.5 Mbps – 91 dBm11 Mbps – 85 dBm802.11a 6 Mbps – 90 dBm9 Mbps – 88 dBm12 Mbps – 87 dBm18 Mbps – 85 dBm24 Mbps – 81 dBm36 Mbps – 79 dBm48 Mbps – 73 dBm54 Mbps – 72 dBm
Nominal Transmitter Power: 802.11b/g 20.5 dBm+1/-1.5 dBm @ 1, 2, 5.5, 11 Mbps20.5 dBm +1/-1.5 dBm @ 6, 9, 12, 18, 24 Mbps18.5 dBm +1/-1.5 dBm @ 36 Mbps17.5 dBm +1/-1.5 dBm @ 48 Mbps16.5 dBm +1/-1.5 dBm @ 54 Mbps802.11a 20.5 dBm +1/-1.5 dBm @ 6, 9, 12, 18, 24 Mbps16.5 dBm +1/-1.5 dBm @ 36 Mbps15.5 dBm +1/-1.5 dBm @ 48 Mbps14.5 dBm +1/-1.5 dBm @ 54 Mbps
Need help finding a complete solution?
Call our product experts today!