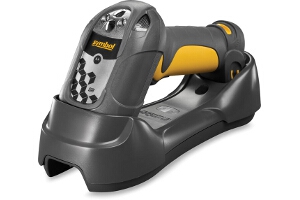 Zebra (formerly Motorola / Symbol) DS3578 Bluetooth Rugged Handheld Area Imager (2D) Barcode Scanner
Discontinued
Replaced by: Zebra (formerly Motorola / Symbol) DS3608-SR / DS3678-SR 3600 Series Ultra-Rugged 2D Barcode Scanner
zebra (formerly Motorola / Symbol) DS3578 Series Rugged Cordless Digital Barcode Scanners with Integrated Bluetooth®
The Symbol DS3578 Series of rugged, cordless, omni-directional 1-D/2-D imager scanners bring comprehensive, high-performance data capture to harsh industrial environments. Engineered with breakthrough digital imaging technology, this scanner family delivers extremely fast and accurate data capture of 1-D/2-D barcodes, direct part marks (DPM) and images, and supports Item Unique Identification (IUID). Integrated Bluetooth provides cordless freedom, improving productivity.
INSTANTLY CAPTURE VIRTUALLY ANY TYPE OF BAR CODE
Improve business efficiency in your harshest industrial environments with the DS3578 Series. Breakthrough digital imaging technology allows workers to capture virtually any bar code, with extreme speed and accuracy. Three models can meet any bar code capture requirement you have — from 1-D and 2-D bar codes and Direct Part Marks (DPM) to Unique Identification (IUID)* support.
IMAGE CAPTURE ADDS VALUE
When a shipment arrives damaged, a picture is worth a thousand words. With the press of a trigger, workers can capture a photo and automatically append it to the shipment record. The image is wirelessly transferred to the cradle and on to your host PC, providing indisputable evidence of damage and streamlining returns processing.
CORDLESS FREEDOM IMPROVES PRODUCTIVITY
With integrated Bluetooth®, there is no cord between the scanner and the host, so your employees can move freely throughout your work environment. Productivity, efficiency and even worker safety is improved. Plus, downtime from cable breakdowns — a common point of failure in handheld devices used in industrial environments — is eliminated.
MAXIMUM PERFORMANCE FOR MAXIMUM PRODUCTIVITY
The DS3578 Series is designed specifically for fast-paced production environments. Complementary metal–oxide–semiconductor (CMOS) image sensors accurately capture and process bar codes much faster than the typical digital scanner. The powerful 624 MHz microprocessor decodes 1-D and 2-D bar codes within milliseconds, regardless of size or density. The patent pending fast-pulse illumination and fast sensor shutter speed deliver outstanding motion tolerance, eliminating the need for users to pause between scans. Omni-directional scanning functionality allows operators to quickly capture bar codes from any angle, so users never need to take the time to align bar codes with laser lines. Plus, the DS3578 Series offers the widest working range of any scanner in its class.
BUILT FOR INDUSTRIAL ENVIRONMENTS
As innovative as it is rugged, the DS3578 Series delivers the ergonomic and operational features required in scan-intensive industrial applications in the harshest environments. The device is built to handle the inevitable bumps and drops — even on concrete. An IP65-rated seal makes it impervious to dust and water. The exit window is scratch-resistant and recessed for the highest level of durability. These features deliver a low total cost of ownership, minimizing employee and device downtime as well as equipment repair and replacement costs.
In addition, noisy machinery and poor lighting can make it difficult for operators to see or hear scanner feedback to ensure proper completion of scans. DS3578 Series addresses this challenge with bright LEDs, adjustable beeper volume and a vibrating pager motor placed in the handle. Decode feedback is clearly visible and audible, protecting productivity and task accuracy.
GOVERNMENT GRADE-SECURITY
Achieving government grade security with the DS3578 Series is easy. All models are FIPS 140-2 compliant, right out of the box. Just scan the included Enable FIPS Encryption bar code to activate FIPS security.
THREE MODELS TO MEET MANY NEEDS
Three models meet a wide variety of application needs across a variety of industries:
DS3578-SR: Combination 1-D and 2-D bar code scanning
The flexible DS3578-SR meets the needs of a wide variety of applications and environments, offering 1-D and 2-D bar code scanning, as well as support for a wide variety of interfaces for easy integration with new and legacy systems. The DS3578-SR streamlines inventory management in the most scan intensive, fast-paced environments — from the largest warehouse to the retail backroom — where a quick scan enables the automatic and accurate capture of the information required to increase productivity and reduce errors. At the receiving dock, a scan of the bar code on the boxes, pallets or bill of lading can automatically reconcile incoming shipments for faster processing of incoming goods. In put-away and picking, a quick scan can determine where product should be stored and also verify that product was placed on the right shelf. False out-of-stocks due to misplaced materials are eliminated — along with lost sales. In shipping, a quick scan verifies that the right shipment is addressed to the right person, preventing costly mis-ships.

DS3578-HD: Optimized for comprehensive 2-D bar code capture
The DS3578-HD offers the same capabilities as the DS3578-SR, but adds optimization for the very tiny and dense 1-D and 2-D bar codes frequently found in warehousing, transportation and logistics, and manufacturing environments. For manufacturers, the DS3578-HD allows scanning of bar codes on the smallest parts to verify that the right part is used at the right time. Product quality improves, increasing customer satisfaction and retention. Real-time inventory visibility allows manufacturers to lower standard stocking levels, reducing warehouse space requirements and increasing inventory turns — and profitability. And in the event you are notified of a defective part, a quick scan can instantly reveal the location of the defective product, allowing rapid and targeted recalls that protect brand image, customer perception and recall costs. And companies involved in warehousing, shipping and delivery of little items can easily read the small, dense 2-D bar codes that may be utilized on smaller packages.

DS3578-DP: Comprehensive IUID-enabled scanner with support for 1-D, 2-D and DPM bar codes
This powerful scanner combines our highly advanced EZ-DPM software with the functionality of the DS3578- SR, the focusing capability of the DS3578-HD, plus integrated IUID parsing capability. Government agencies and industrial manufacturers — including automotive, aerospace and medical — can capture all 1-D and 2-D bar codes as well as every type of Direct Part Mark (DPM). EZ-DPM software allows easy reading of even the most challenging marks, including very low contrast marks on black plastic, 'noisy' marks on cast surfaces and marks on corroded steel and cast iron pipe that have been in the field for years. Comprehensive IUID support allows you to capture and process Unique Item Identifiers (UIIs) — the scanner can validate, read, separate and transmit the right information to your application. And since construct tables are field upgradable, your IUID applications are future proof.
REDUCE HARDWARE AND MANAGEMENT COSTS
The DS3578 not only helps you save time, it helps you save money. Since this one device can capture any bar code, you no longer need to purchase, manage and maintain multiple devices to accommodate different bar code symbologies. You also no longer need a cradle for every device —one FIPS validated cradle supports up to seven FIPS validated scanners. In addition, two Zebra-unique tools substantially reduce management time and cost. 123Scan2 is a powerful PC-based software tool that enables rapid and easy scanner set-up and customization. And Remote Scanner Management (RSM) enables remote, network based device management from a central location.
END-TO-END SUPPORT
Service from the Start Advance Exchange Support provides next-business-day replacement of devices that require repair. Built-in Comprehensive Coverage protects your scanners from the unexpected, significantly reducing unforeseen repair expenses and delivering service peace of mind.
* Direct Part Marks (DPM) and IUID available only on the DS3578-DP (DPM-enabled model)
Reads both 1-D and 2-D bar codes
Increases productivity by providing one device that can read all industry standard bar codes

Powerful 624 MHz processor, fast sensor shutter speed and patent pending fastpulse illumination
Superior performance on 1-D and 2-D bar codes, improving productivity in a wide variety of applications

Government grade security: FIPS 140-2 validation
Meets the most stringent federal government and industry security regulations

IUID-enabled (DS3578-DP only)
Ability to understand IUID constructs, and automatically separate and send the required information to your application

Captures high density bar codes (DS3578-HD only)
Increases productivity by enabling users to read high density 2-D bar codes in addition to all industry standard bar codes

EZ-DPM software for Direct Part Mark capture (DS3578-DP only)
Enhance quality processes and improve lifetime product traceability with this highly advanced DPM software; captures hard to read DPM codes faster; captures the widest range of sizes and densities on virtually any surface

Captures photos
A press of the trigger captures and transfers photographic information to the cradle and on to your host computer

Integrated Bluetooth® Class II, Version 2.1
Cable-free convenience; secure wireless transmissions; reduces repairs due to cable failure

Exceptional motion tolerance
Enables extraordinary scanning speed for all bar codes, increasing throughput and productivity— regardless of application

Unique aiming pattern
Bright central laser dot ensures quick, accurate scanning — even in bright sunlight

Omni-directional scanning
Speeds reading time by eliminating the need to line up the bar code with the scan line

Rugged design: IP65 sealing and 6.5 ft./2 m drop specification
Ensures maximum reliability with less downtime resulting from accidental drops and exposure to water and dust

Bright LED, beeper with adjustable volume and vibrating pager motor
Multiple confirmation modes for positive user feedback in noisy environments

Advanced data formatting
Eliminates costly modifications to the host software

7-to-1 pairing
Pair seven scanners to a single cradle, greatly reducing cradle costs (scanners and cradle must be FIPS validated)

Multiple on-board interfaces and universal cable set
Easy to connect to your existing host system as well as upgrade to new hosts of the future; protecting your investment

Supports 123Scan2
Enables rapid and easy customized set-up through a free, wizard-based PC software tool

Supports RSM (Remote Scanner Management)
Lowers IT expenses and TCO by enabling remote management from a central location
Need help finding a complete solution?
Call our product experts today!