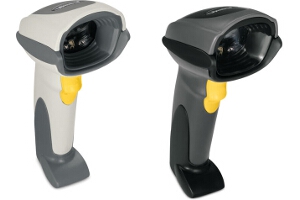 Zebra (formerly Motorola / Symbol) DS6700 Corded Handheld Area Imager (2D) Barcode Scanner
Discontinued
Replaced by: Zebra (Formerly Motorola / Symbol) DS8100 Series Handheld Imagers
Zebra (formerly Motorola / Symbol) DS6700 General Purpose 1-D/2-D Imager Barcode Scanner
The Symbol DS6700 1-D/2-D Imager Scanner combines the functionality of a barcode scanner, digital camera and document scanner in a single, cost-effective device. From point-and-shoot simplicity to accurate barcode scanning to capturing full-size documents, this device is the right tool for the job. Text enhancement technology makes the scanner able to handle even the finest-grain text. Omni-directional scanning and a wide working range means that even novice users can begin scanning with minimal training.
Capture data and images with single multi-use device
The versatile DS6700 Series delivers the functionality of a 1-D and 2-D bar code scanner, digital camera and document scanner in a single device. Designed to meet a wide variety of business needs across a variety of industries, the DS6700 enhances employee productivity and streamlines business processes in retail, government, manufacturing and more by combining an onboard 1.3 megapixel camera with high performance scanning features and superior digital imaging technology.
Enhance employee productivity
The DS6700 Series delivers the accurate and rapid first time scanning of bar codes required to maximize employee productivity. Whether you need to read 1-D, 2-D or PDF417 bar codes, the DS6700 Series provides true point-and-shoot bar code capture — there is no need to orient products to the scanner window, and a viewfinder ensures the image is properly captured the first time. Users can dynamically switch between hands-free and handheld operation to quickly, easily and safely scan large items. And a pick list function expands usability from the front room to the back room, enabling rapid processing of orders and more.
Superior document clarity for record-keeping applications
Our text enhancement software delivers the document clarity required to streamline record-keeping, replacing paper-based files with electronic filing. From medication prescriptions to bills of lading, the high-resolution camera and text-enhancing software work hand-inhand to ensure the visibility of text on documents captured, including very small print. As a result, critical business information is literally at your fingertips, helping to reduce administrative and regulatory compliance costs.
An outstanding return on investment
The DS6700 Series reduces capital and operating expenses by eliminating the need to purchase, manage and support additional devices — such as digital cameras and separate bar code scanners for different symbologies. Fewer devices to deploy significantly reduces the time and costs associated with training — and positively impacts productivity. The ability to remotely track, deploy and upgrade DS6700 Series scanners reducestypical management costs. And since even the most intelligent devices require a support plan, Zebra's Service from the Start Advance Exchange Support agreement provides next-business-day delivery of a replacement device for maximum uptime and true service peace of mind.
Additional Models:
DS6707-DP Handheld DPM Digital Imager Scanner
The Symbol DS6707-DP is a premier general purpose scanner, offering the maximum in data capture flexibility. The Symbol DS6707-DP is able to capture images and read virtually all 1-D and 2-D barcodes and direct part marks (DPM) — including the most challenging mark, dot peen. This highly versatile device is ideal in industries that depend on a wide variety of data types, such as healthcare, aerospace and automotive. With the DS6707-DP, workers can capture the right information at the right time, driving inefficiencies and errors out of business processes — improving accuracy as well as employee productivity.

DS6707-HD Handheld Digital Imager Scanner
The flexible Symbol DS6707-HD provides electronics manufacturers with a single affordable device capable of reading virtually every type of barcode used in electronic component assembly. From high density and low contrast marks to 1-D, 2-D and PDF417 barcodes and images, this single device supports all the data capture functionality workers need on the line, bringing a new level of cost-efficiency and accuracy to electronics component assembly.

DS6708-DL Handheld Imager Scanner
The Symbol DS6708-DL barcode scanner combines all the features of Zebra's standard DS6708 imager, including omni-directional 1-D/2-D barcode scanning, with an embedded parsing agent that enables users to read the PDF-417 barcode on a US drivers license and use that information for a multitude of applications. Because the parsing is done in the scanner and the output is controlled by the user, the scanner can easily be used in all environments with very little start-up effort.
1.3 Megapixel imaging
Provides resolution to support image capture and bar code scanning; provides flexibility to capture documents as large as 8.5 in. x 11 in./ 21.6cm x 27.9cm

Support for all major 1-D, PDF, postal and 2-D symbologies
Delivers application flexibility; eliminates need for multiple devices — and associated costs

RSM (Remote Scanner Management) Ready
Lowers IT expenses and TCO by enabling remote management from a central location

Text enhancement technology
Ensures legibility of text in scanned documents

6 ft./1.8m drop specification, tempered glass exit window
Designed to endure the rigors of everyday use for maximum reliability and uptimes; reduces downtime and TCO

Multiple on-board interfaces; universal cable compatible
Easy to install; futureproof — today's cradle can connect to tomorrow's host

360° omni-directional scanning; wide working range, laser aiming pattern
Easy to use; no need to align item and scanner; virtually no training required

Optional hands-free Intellistand
Enables presentation scanning and automatic switching between hands-free and handheld modes
Need help finding a complete solution?
Call our product experts today!