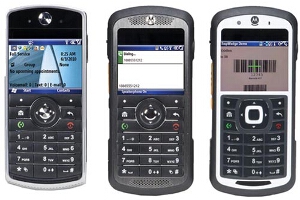 Zebra (formerly Motorola / Symbol) EWP2000 / EWP3000 VoWLAN Smartphone
Discontinued
Replaced by: Direct Replacement Not Available - Contact Us For Suggested Replacement
Motorola EWP2000/EWP3000 VoWlan Smartphones
Motorola's Total Enterprise Access and Mobility (Team) Solution Motorola's Total Enterprise Access and Mobility (TEAM) solution enables a truly mobile office experience by delivering the communication services required to stay on top of business throughout the day. Easy to deploy, the TEAM solution easily integrates into existing IT infrastructure (including the wireless LAN and the PBX) as a non-intrusive overlay, creating a single common platform for the delivery of integrated voice and data services. This appliance-based offering provides workers with mobile access throughout the enterprise WLAN to the six key voice and data business services workers need to stay productive while on the move.
PBX Telephony
Extend the features and functionality of a desk phone to a mobile device.
Push-To-Talk Services
Empower users with robust, instant communications — including the ability to call an individual or a group (with up to 255 definable groups).
Corporate Email, Calendar, Contacts and Other Personal Information Management (PIM) Tools
Keep your workers in touch and on top of their schedule, task list and more.
Text Messaging
Service within the wireless LAN coverage area enables fast and efficient communication between workers — improving response times to customer demands and changing business conditions.
Internet/Intranet Access
Provides on-the-spot easy access to web-based applications and information as needed throughout the business day.
Line of Business Applications
Support for the latest industry standard mobile operating system, Windows Mobile® 6.5, simplifies mobile access to server-based business critical applications. The EWP3100 features an integrated camera for 1D/2D light-duty bar code scanning.
A Single Device for all Communications
Featuring the EWP2000/3000 series of devices, the TEAM Solution provides workers within the enterprise with a single device to meet all their communication needs throughout the enterprise. The EWP2000 Semi-rugged VoWLAN smartphone series is designed to endure a demanding environment, offering sealing against moisture and dust as well as a rigorous drop specification. The EWP3100 adds an integrated camera for 1D/2D light-duty bar code scanning and includes BioCote® antimicrobial product protection which inhibits the growth of mildew on the surface, and a keypad that can be wiped clean.
World-Class Services and Support
Motorola offers a complete suite of Enterprise Mobility Services to get and keep your TEAM VoWLAN smartphones up and running at peak performance. Motorola's Advanced Services incorporate an integrated lifecycle approach — from assessment and commissioning to integration and handset staging — into a single streamlined program. And seamless integration with Motorola's Customer Services gives you the support you need, including around-the-clock access to technical support resources and rights to download entitled software releases, to help ensure that all elements of your solution work at peak performance levels.
Enterprise-Grade VoWLAN Smartphones
Provides comprehensive business functionality in a compact consumer-style device built to withstand all-day every day enterprise use
Professional and Semi-Rugged Models
Cost-effectively meet the needs of different types of workers
Microsoft® Operating System: Windows Mobile® 6.5
Standards-based, open, and extensible to enable robust multi-vendor business applications on-demand, right on your TEAM VoWLAN smartphones
Integrated Camera (EWP3100)
Enables 1D/2D light-duty barcode scanning
128MB RAM/256MB ROM
Provides memory space required to enable robust performance for the most processing intensive applications
BioCote® Antimicrobial Product Protection
Inhibits growth of mold and mildew on the surface of the product
IEEE 802.11a/b/g
Compatible with multiple vendors' WLANs
Bluetooth Support
Provides convenient wire-free connectivity to printers, headsets and more
TIOMAP™ 325 MHz Processor
Delivers a superior combination of high performance and ultra-low power consumption
Multiple Voice Modes: Handset, Headset and Speakerphone
Allows users to choose the right mode for the moment
Standard and High Capacity Batteries
Provides the flexibility to ensure operation throughout the business day
Need help finding a complete solution?
Call our product experts today!