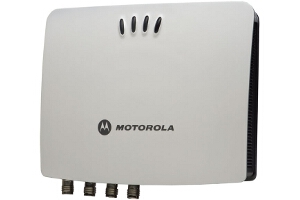 Zebra (formerly Motorola / Symbol) FX7400 Fixed-Mount RFID Reader for Customer-Facing Environments
Discontinued
Replaced by: Zebra (formerly Motorola / Symbol) FX7500 Advanced Fixed RFID Reader for Business Class Environments
Motorola FX7400 Fixed RFID Reader For Customer-Facing Environments
Business-Class Functionality In A Compact, Sleek Design
The Motorola FX7400 RFID Reader sets a new standard in design for indoor customer-facing and carpeted environments — packing best-in-class RFID features into a sleek, attractive form factor that is less than half the size of a typical fixed industrial RFID reader. With a low profile and impressive array of integrated features and functionality, the FX7400 makes RFID cost-effective for business class applications such as item-level inventory management, IT asset management and more. This standards-based device integrates easily into your existing technology environment, delivering superior performance and simplified management. Flexible enough to support your business needs today and in the future, the RFID reader offers outstanding value with a low cost per read point, investment protection and superior total cost of ownership (TCO). And the FX7400 expands our RFID fixed reader portfolio to serve both business-class and industrial environments.
Easy To Use, Deploy And Manage
The FX7400 is easy to mount and manage. The reader simply snaps into the supplied bracket. Deployment is automated with ShowCase II, Motorola's new remote configuration and management tool. An auto discovery function helps detect devices once they are plugged into the network; pre-defined configuration files simplify setup for various applications and environments and a testing tool lets you verify that your FX7400 readers are up, running and ready to put into operation. No outlet nearby? No problem. Integrated Power over Ethernet (PoE) gives businesses the freedom to place the FX7400 wherever it is needed most, without the hassle or cost associated with installing power outlets — ideal for the large open common areas in retail storefronts. LLR P (low level reader protocol) support delivers seamless integration with your existing IT infrastructure, including wireless LA Ns and standard middleware, such as IBM WebSphere and Microsoft BizTalk. And the ability to host third party applications further simplifies application deployment, allowing you to easily customize applications to meet your business needs today and tomorrow.
A Smart Investment With A Low Total Cost Of Ownership (TCO)
With the FX7400, you get big business benefits — effortless real-time accurate inventory visibility and a superior TCO. A choice of either two or four monostatic ports lets you purchase only what you need, no more no less. With the integrated optically isolated General Purpose Input/Output (GPIO) interface, there's no need to purchase, install and manage additional hardware.A flexible radio architecture minimizes the complexity of multinational deployments and simplifies the technology architecture in distributed environments. Integrated PoE support provides a substantial cost savings — up to $1000 per electrical drop. And our centralized remote management tools significantly reduce IT management time and cost.
End-To-End Lifecycle Support
No matter what help you might need, we have you covered. Our full suite of services offers 'from the manufacturer' expertise throughout the entire lifecycle of your solution — from assessment, commissioning and rollout to ongoing training and day-to-day support. Our RFID Advanced Services provide the assistance you need to architect your solution for your business, processes and environment, ensuring that your pilot or full-scale rollout is designed to deliver peak performance — and maximum benefits. And post deployment, Motorola's Customer Services provide the everyday support you need to keep your RFID solution up and running day in and day out, with options that include 24x7 on site coverage and preventive maintenance visits.
Highly Integrated Features, Including POE, GPIO and Management Software Provides a low cost per read point - and a superior TCO
2-port and 4-port Reader Configurations Provides application flexibility and optimal investment
Open Standards-Based Architecture:

EPC standards-based defined reader management
Auto-discovery
Flexible firmware upgrade features
Showcase II management tool
Enables seamless integration with existing IT environments as well as remote and centralized management, while simplifying and reducing the cost of set-up, deployment, testing and management

Next Generation Reader Platform, Including Dense Reader Mode Support Best-in-class read rates deliver superior read performance
Microsoft Windows® CE 5.0 Direct Application Hosting; 64 MB RAM/64 MB Flash Enables easy integration of a wide range of third-party applications to maximize operational efficiency; enables upgrading to meet future requirements; maximizes product lifespan; provides outstanding investment protection
EPC Global LLRP Interface Support; Comprehensive API Support - .NET, C Simplifies application development.
Need help finding a complete solution?
Call our product experts today!