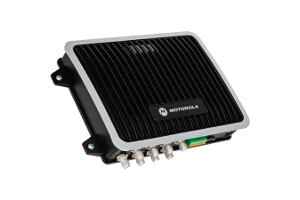 Zebra (formerly Motorola / Symbol) FX9500 Fixed RFID Reader for Industrial Environments
Discontinued
Replaced by: Direct Replacement Not Available - Contact Us For Suggested Replacement
Zebra (formerly Motorola / Symbol) FX9500 Fixed RFID Reader - High Performance RFID Data Capture for Industrial Environments
GET TOP OF THE LINE PERFORMANCE – NOW AND IN THE FUTURE
Your business relies on tracking your valuable assets and moving your sellable products. The faster you can receive, inventory, pick and ship – without errors and without bottlenecks – the more efficient and profitable your operation can be.
The FX9500 Fixed RFID Reader is designed to be as hardworking and efficient as you are. With exceptionally high RF sensitivity, the FX9500 delivers extremely high read performance, so you can quickly and accurately move and track large volumes of your RFID-tagged cases, pallets and items. Greater accuracy means more efficient operations in RF-challenging environments and with RF-challenging materials, such as those with a high metal or liquid content. The higher sensitivity also means longer read ranges for large distribution center and yard management applications, and higher throughput rates for high volume reading and densely packed goods situations.
The FX9500 is also rugged. Featuring an IP53 sealing rating and an extremely durable design, the FX9500 is built to perform in the widely variable temperatures of a loading dock or in a large, dusty distribution center.
REAP BOTTOM LINE ADVANTAGES
With its best-in-class processor and expanded memory, the FX9500 comes in a 4-port model, as well as an 8-port model; the latter lets you cover more dock door portals or read points with fewer readers so you save on deployment costs and achieve a lower cost per read point. Each configuration is also able to perform in either monostatic or bistatic mode (where one or two cables are used respectively for transmit and receive signals), giving you complete control to optimize your application. That means increased efficiency and accuracy every time your inventory is touched, from receiving to pick/pack/ship. You save labor costs, reduce carrying expenses and deliver the right product on time every time.
High traffic volumes, a wide variety of tagged products, item-level tagging, seasonal product shifts – the speed and sensitivity of the FX9500 can handle it all.
A LINE YOU CAN TRUST
The FX9500 joins the broadest, most comprehensive portfolio of business and industrial fixed, mobile, handheld and hands-free RFID readers available today. Zebra has deployed more UHF RFID readers than any other RFID provider, so you get the peace of mind that comes from choosing products that are well-tested in practically every industry. We're ready to use our experience to help you get more value out of your RFID data and enjoy a faster return on your RFID solution.
High-performance RFID reader
Ideal for high volume, high density, high throughput applications; can accommodate growing needs to future-proof your investment

Rugged design
IP53 sealing, diecast housing; maximize uptime even in the toughest warehouse or production environments

Application flexibility and lower deployment costs
4-port and 8-port reader configurations; provides greater application flexibility and lets you cover more portals with fewer readers

Small footprint
All cabling and input/output ports are on one side, resulting in a compact size that simplifies and reduces the cost of set-up deployment and management
Need help finding a complete solution?
Call our product experts today!