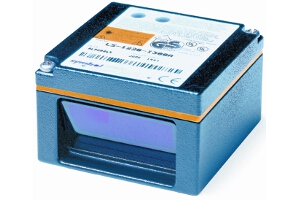 Zebra (formerly Motorola / Symbol) LS1220 Fixed-Mount Barcode Scanner
Discontinued
Replaced by: Zebra (formerly Motorola / Symbol) MS4400 MiniScan Fixed-Mount Barcode Scanner
Motorola / Symbol LS-1220 Fixed-Mount Barcode Scanner
Big Performance, Small Size for Fixed-Mount Or Embedded Scanning Applications
The MiniScan™ combines compact, durable construction with Symbol's proven scanning technology for a rugged, reliable fixed-mount scanner that can also be used as an embedded module. Available in standard or long-range working distances for additional flexibility, MiniScan is the right choice for applications requiring accurate unattended automated data entry.
Reliable High Quality Scanning, Low Power Consumption
MiniScan's superior laser performance and sophisticated decoding algorithms assure the highest first-time read rate and accuracy, even on damaged or poorly printed symbols, while decoding all major bar code symbologies. The LS 1220 Series also incorporates Symbol's patented Mylar® scan element. Like a tuning fork, the Mylar scan element resonates at a fixed frequency – creating motion without wear and tear. That translates into reliability that's virtually nonstop. MiniScan Series scan modules also offer the industry's lowest power consumption – the result of our combination of Solid State Visible Laser Diode and Mylar scan element.
Additional features include RS-232-C output, "scan" and "good decode" LED indicators, bar code programming menus for easy set-up, host and external trigger options, your choice of standard or long-range models and a variety of optional accessories.
Many Uses for MiniScan
Used as fixed-mount, non-contact scanners, LS 1220 modules are ideal for conveyor, library and document tracking applications. MiniScan Series modules are also ideal for embedded applications such as chemical and blood analyzers; automated medical, test and processing equipment; and many other automated data entry devices.
MiniScan Modules: One more big idea in a small package from Symbol Technologies, the world leader in bar code-based data management systems with more than 2.5 million scanners and terminals installed.
Need help finding a complete solution?
Call our product experts today!