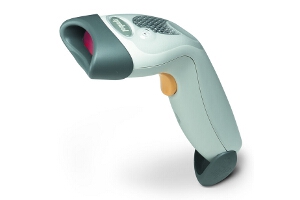 Zebra (formerly Motorola / Symbol) LS1900 Cobra Barcode Scanner
Discontinued
Replaced by: Zebra (formerly Motorola / Symbol) LS2208 Corded Handheld Laser (1D) Barcode Scanner
Motorola / Symbol LS1900 Cobra Barcode Scanner
Value, Style and Performance
The Cobra LS 1900 Series of scanners from Symbol Technologies is designed to fit your hand and your budget. Its sleek, lightweight, ergonomic design is perfectly balanced to minimize operator strain while maximizing comfort. The Cobra LS 1900 is a premium scanner at an entry-level price with features you'd only expect to find in high-end solutions. A hands-free stand delivers the flexibility to operate as a presentation scanner for both triggered and triggerless configurations. Backed by Symbol's five-year plus warranty, the Cobra LS 1900 Series offers the scanning quality and versatility that users have relied on for over 25 years.
Enhance User Productivity Across Multiple Scanning Applications
The Cobra LS 1900 Series offers a large, bright two-color LED plus a beeper with adjustable volume for audible confirmation of good decodes. Its highly visible scan line provides simple aiming, while the curved rubber nose makes it easy to orient the scan beam– even when scanning on contact. This ensures valid decodes the first time, every time. The result: fast, accurate data capture and the elimination of keyboard entry errors. The Cobra LS 1900 Series offers a complete scanning and connectivity feature set making it the scanner of choice for a wide range of bar code data applications in grocery and specialty stores, video rental establishments, music stores and more. Beyond the checkout counter, the versatile Cobra LS 1900 Series is also a reliable solution for applications such as document tracking, tool crib management, time and attendance tasks, light industrial applications, and even lottery ticket scanning.
Maximize Your Investment for the Long Term
The decoded versions have multiple on-board interfaces plus universal cabling to provide flexible connectivity to futureproof your hardware investment. Advanced Data Formatting (ADF) capabilities allow scanned data to be modified prior to transfer ensuring compatibility with the application on the host system. The Cobra LS 1900 Series uses flash memory to facilitate post-purchase upgrades, change default settings or customize the device for singular applications. It even ships ready to read Reduced Space Symbology (RSS), an emerging symbology for smaller products where space is at a premium.
Triggered and Triggerless (Continuous on) Configurations

Select the best configuration to maximize ease of use for your applications

Ergonomic Design

Sleek, Balanced Form Factor Reduces User Discomfort While Scanning

Large 2-Color LED and Beeper with Adjustable Volume

Multiple modes of confirmation ensure positive feedback to the user

Decoded Versions Offer Multiple Interfaces On-Board

Flexible connectivity allowing for host "future proofing"

Advanced Data Formatting (ADF)

Enables users to format data before it is sent to the host computer eliminating costly modifications to the host software

Flash Memory

Facilitates updates/customization of product in the field

Reads Reduced Space Symbology (RSS)

Compatible with this emerging symbology to leverage your hardware investment

Mylar® Scan Element

Unsurpassed scanning performance without friction or wear; covered by a lifetime warranty

Hands-Free Stand

Enables automatic presentation scanning Universal Cables Shares cabling with other Symbol scanners for easy replacement and/or upgrades

Universal Cables

Shares cabling with other Symbol scanners for easy replacement and/or upgrades

Supports 123Scan Scanner Setup Utility

Flexible setup using PC utility download, or by scanning a sequence of bar codes
Need help finding a complete solution?
Call our product experts today!