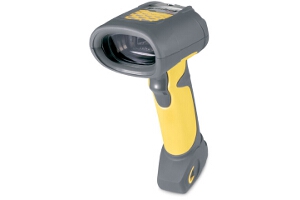 Zebra (formerly Motorola / Symbol) LS3408-ER Corded Rugged Handheld Laser (1D) Barcode Scanner
Zebra (formerly Motorola / Symbol) LS3408-ER Rugged Barcode Scanner
The LS3408-ER handheld corded scanner captures 1-D barcodes in the harshest of conditions — even when labels are at varying distances. Featuring the widest working range available, it reads labels as far away as 45 feet and as close as .25 inches.
This scanner is ideal for warehouse and manufacturing facilities, with an ergonomic design that makes scanning comfortable during long shifts. Multiple on-board interfaces to ensure compatibility with different hosts.
Redefining Performance for Maximum Industrial Mobility
The rugged LS3408-ER handheld scanner delivers superior performance and versatility for your scan-intensive industrial applications. In the yard, warehouse, distribution center, manufacturing plant or retail store, the LS3408-ER handheld scanner offers best-in-class performance, excellent reliability and user-friendly ergonomics to create a more productive mobile environment. Multiple on-board interfaces ensure flexible plug and play host connectivity.
Advanced Data Capture Features for Industrial-Grade Applications
The LS3408-ER offers an outstanding reading range, providing the flexibility to enable a wide range of industrial applications. Industry leading impact tests ensure reliable performance in spite of the inevitable accidental drops. The device is impervious to dust and water, and its exit window is scratch-resistant and recessed for the highest level of durability. As a result, you avoid unnecessary equipment downtime or expensive equipment replacement costs.
For applications requiring quick access and convenient storage, the LS3408-ER features a built-in metal hook for attachment to a pulley. Two large LED-enhancing windows and an extra loud 80 decibel (db) beeper are strategically placed on the scanner for clear and audible feedback to users.
The Smartest Way to Capture Mission Critical Information
The extended range LS3408-ER is designed specifically for industrial applications. When you choose the LS3408-ER, you receive the added assurance of purchasing from Zebra — a company with proven advanced data capture capabilities and millions of scanner installations worldwide.
Wide working range: .25"/.64 cm to 45 ft./13.7 m
Improves user productivity

Ergonomic, rugged industrial design withstands up to 50 drops to concrete from 6.5 ft. (2m) and 2,500 3 ft. (1m) tumbles (5,000 hits)
Ensures maximum reliability with less down time due to accidental drops

IP65 sealing rating (electronic enclosure)
Protects against water and dust to ensure reliable performance in rough conditions

Bright 650nm laser aiming dot
Delivers clearly visible line for more accurate scanning

Dual-scan angle switches from standard to wide under software control
Offers fast, accurate bar code reading on menus and pick lists

Multiple on-board interfaces
Ensures flexible connectivity, allowing for host "future proofing"

Advanced data formatting (ADF)
Eliminates costly modifications to the host software

Flash memory
Facilitates updates and customization of product in the field

Universal cable set
Allows for easy replacement and/or upgrades

Supports GS1DataBar Symbologies (formerly RSS)
Compatible with emerging symbology to leverage your hardware investment
Need help finding a complete solution?
Call our product experts today!