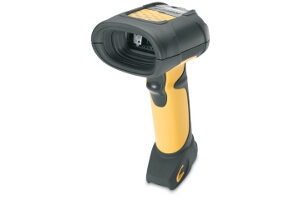 Zebra (formerly Motorola / Symbol) LS3478-FZ Bluetooth Rugged Handheld Laser (1D) Barcode Scanner
Discontinued
Replaced by: Zebra (formerly Motorola / Symbol) LS3578-FZ Bluetooth Rugged Handheld Laser (1D) Barcode Scanner
Motorola / Symbol LS3478-FZ Rugged Cordless Scanner
Accurately Scan Damaged or Poorly Printed Bar Codes
Motorola's rugged Symbol LS3478FZ cordless scanner with fuzzy logic technology enables rapid and accurate reading of the damaged, dirty and poorly printed one-dimensional (1D) bar codes often found in your industrial environment. These cordless handheld devices offer superior performance and reliability in the yard, warehouse, distribution center, manufacturing plant or retail store. Designed for ease of use, your employees can comfortably operate the scanner — even over eight-hour shifts. And the Symbol LS3478FZ grows with you as your business needs evolve — multiple onboard interfaces enable you to easily connect to existing hosts, while also providing the flexibility to upgrade your systems without having to buy new scanners.
Eliminate the Cord, Not Performance
Your employees can operate more efficiently when you eliminate the cable between the device and the host. Production line technicians are able to scan damaged and dirty bar codes without being cabled to the host, saving time and improving data accuracy. And the elimination of this common point of failure also translates into less downtime.
Minimize Equipment Downtime
The Symbol LS3478FZ is designed for scan-intensive industrial applications in the harshest operating conditions. Industry-leading impact tests ensure reliable performance in spite of the inevitable accidental drops. The device is impervious to dust and water, and its exit window is scratch-resistant and recessed for the highest level of durability. As a result, you avoid unnecessary equipment downtime or expensive equipment replacement costs.
Provide Versatility For Your Industrial Applications
Symbol LS3478FZ features a built-in metal hook for attachment to a pulley — ideal for providing quick access and convenient out-of-the-way storage on a forklift or in the warehouse. And visible and audible feedback lets users know when a successful scan is completed, ensuring that workers remain productive in spite of noisy machinery or dim lighting.
End Maintenance Worries with a Full Suite of Services and Support
Even the most rugged scanners need a support plan to cover maintenance. That's why Motorola covers every aspect of your mobility solution— from network design to ongoing operations— providing unsurpassed breadth and depth of coverage to ensure all of your services and support needs are met.
High-Performance Scanner with Fuzzy Logic Decode Capability

Quickly and accurately scans all 1D bar codes on the first scan, including poorly printed, dirty, damaged or low-contrast bar codes

Cordless Scanning

Enables real-time bar code data collection unrestricted by a cable, reducing repairs made necessary by cable failure

Rugged Design Withstands Multiple 6.5-ft. (2-m) Drops to Concrete; 2,500 3.5-ft. (1-m) Tumbles (5,000 Hits)

Ensures maximum reliability with less downtime resulting from accidental drops

IP65-Rated Seal (Electronic Enclosure)

Protects against water and dust to ensure reliable performance in harsh industrial conditions, reducing unplanned downtime because of equipment failure

Multi-Point Communication

Four scanners communicate to a single cradle for increased productivity

Bright LED and Beeper with Adjustable Volume

Ensure positive user feedback in noisy environments with multiple modes of confirmation, so employees don't waste time trying to determine if a scan has been completed

Bright 650 nm lAser Aiming Dot

Delivers clearly visible line for more accurate scanning

Supports Reduced Space Symbologies (RSS)

Ensures compatibility with emerging symbologies to protect your hardware investment

Advanced Data Formatting

Eliminates costly modifications to the host software

Flash Memory

Simplifies updates and customization of product in the field

Universal Cable Set

Allows for easy replacement and upgrades

Multiple On-Board Interfaces

Ensures flexible connectivity with different hosts, enabling you to maximize use of your existing technology
Need help finding a complete solution?
Call our product experts today!