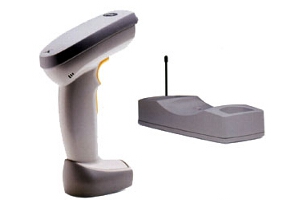 Zebra (formerly Motorola / Symbol) LS4071 Cordless Handheld Laser (1D) Barcode Scanner
Discontinued
Replaced by: Zebra (formerly Motorola / Symbol) LS4278 Cordless Handheld Laser (1D) Barcode Scanner
Motorola / Symbol LS4071 Cableless Scanner
The First RF Cordless Scanner Designed for Retail and Light Industrial Applications
Cable-free for Ease of Use and Improved Performance
The LS 4071 scanner from Symbol Technologies offers cableless scanning operation for greater flexibility, mobility and user friendliness. Ergonomically designed with the operator in mind, the LS 4071 also provides excellent scanning performance superior to competitive corded scanners. Plus, it's a member of Symbol's LS 4000 family of high-performance scanners.
The LS 4071 communicates with the host via the cradle/base station.
LS 4071–The Premier Scanner for the Retail Marketplace
The LS 4071 was specifically designed to help make scanning fast and easy. Its state-of-the-art, two-finger trigger design makes it extremely light and mobile which greatly reduces operator fatigue and helps operators scan heavy or bulky items. And since there's no cord to get in the way, the operator won't knock over items while reaching for hard-to-get-at bar codes.
Another plus that comes from not being tethered is that the LS 4071 can scan items in shopping carts, so customers don't have to lift heavy items up to the counter.
The LS 4071–Reliable, Flexible and Designed to Increase Productivity
Today's first RF cordless scanner designed for retail and light industrial applications, the LS 4071 increases productivity at the checkout. Its award winning, advanced ergonomic design provides greater user comfort so the job is completed more effectively and with much less fatigue. In addition, there's no more downtime due to cable problems. The LS 4071 is the ideal choice for scanning jobs in retail and light warehouse and manufacturing environments.
Another Winning Scanner from Symbol Technologies
The LS 4071 is an innovative scanner more advanced than any offered by the competition. And it's brought to you by Symbol Technologies, the leader in bar code-driven data management systems with more than 6 million scanners and terminals installed worldwide.
The LS 4071 lets operators scan items without lifting them for added speed and convenience – and no cable restrictions.
The LS 4071 offers much better RF working range than any competitor– over 10 feet/3 meters, in fact. Since it is cableless, there's never any need to worry about broken cables.
It uses adaptive logic so it can provide excellent scanning performance on all bar codes, including damaged and poor quality symbols. And its brighter laser provides improved performance in brightly lit environments.
The LS 4071 uses flash memory to store system and application software modules. This allows for easy field updates, plus there's no need to open the scanner and physically replace the PROM chip. In addition, its Synapse™ interface makes connectivity to virtually any host a matter of just changing the cable.
Advanced Data Formatting gives LS 4071 users the ability to modify scanned data before forwarding it to the host computer. Also, the LS 4071 uses radio frequency transmission for more accurate first-time scanning, as opposed to other cordless scanners that rely on infrared systems that can be blocked–which makes scanning impossible.
The 4071 was designed for heavy use and is very durable. It has a rubber overmold canopy and a protective battery boot cover.
Need help finding a complete solution?
Call our product experts today!