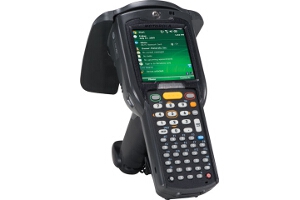 Zebra (formerly Motorola / Symbol) MC3090-Z Handheld RFID Reader
Discontinued
Replaced by: Direct Replacement Not Available - Contact Us For Suggested Replacement
Motorola MC3090-Z RFID Reader New class
The MC3090-Z represents another RFID first from Motorola — the first business-class handheld RFID reader designed specifically to extend the benefits of RFID beyond industrial spaces and into customer facing and business environments. The MC3090-Z starts with the signature rugged design and high performance for which Motorola's industrial handheld RFID products are known, and adds the ergonomics required for all day comfort and ease of use. At just half the weight of its industrial counterparts, the MC3090-Z is the lightest UHF RFID rugged handheld reader on the market, offering a well-balanced design and a convenient gun-style grip for read intensive applications. Add a groundbreaking new antenna design that drives RFID performance to new heights and the result is a highly versatile device that is at home in customer facing environments — from retail stores and healthcare facilities to the business office.
Lightweight, Ergonomic Pistol Grip Design
Built for all day comfort; reduces user fatigue in read- and scan-intensive applications
Motorola's Patented Omnidirectional MAX RFID Antenna
Orientation insensitive design eliminates the need for precise reader and tag alignment for faster and more accurate reads
Color Touchscreen Easy and intuitive interface; reduces training time and costs
Pinpoint Locationing Technology
A unique combination of intuitive audible and visual cues easily guides workers to a specific item: as the device moves closer to the desired item, a beep tone increases in frequency and volume, while a sliding graphical bar increases in size
Wi-Fi 802.11a/b/g Wireless Connectivity
Connects to virtually any wireless LAN for easy integration into any wireless enterprise environment; enables real-time wireless data capture anywhere in your environment
Motorola MAX Rugged: Meets And Exceeds MIL-STD 810F Standards For Drop,Tumble And Sealing
Built for all day enterprise use; provides dependable operation despite the inevitable drops and spills; provides extended lifecycle; withstands wipe downs
Motorola MAX Data Capture
Offers Exceptional RFID and Bar Code Scanning Functionality In A Single Device; Eliminates The Need To Purchase Two Devices, Reducing Capital and Operational Costs
320 x 320 display with backlight
30% Higher Resolution Than ¼ VGA For Easier Viewing In Virtually Any Lighting Condition
Need help finding a complete solution?
Call our product experts today!