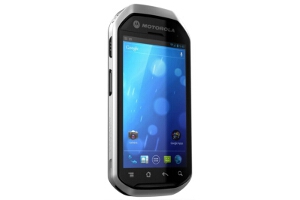 Zebra (formerly Motorola / Symbol) MC40 Wireless Handheld Mobile Computer
Zebra (formerly Motorola / Symbol) MC40 Mobile Computer
Empower your associates to deliver service that will impress today's demanding and technology savvy customers with the MC40. Zebra offers a cool, sleek design that rivals the most popular consumer-style products on the outside and is pure business on the inside — enterprise-class durability, security and a comprehensive set of features including advanced barcode scanning, push-to-talk and an integrated magnetic stripe reader.
The result? Associates can look up the answer to practically any product question on this handheld mobile computer, present product comparisons to help with a buying decision, place an order for next day delivery or in-store pick-up and ring up a sale — all without ever walking away from the customer.
Cool Consumer-Styling on the Outside — Pure Industrial Design on the Inside
With this sleek pocketable device, everything your associates need to serve your customers is always right at their fingertips. They can scan an item bar code to look up price, inventory availability or item location; look up a gift registry and product information; present a comparison of multiple products; call virtually anyone in the store carrying any type of mobile device for help with a question; ring up the sale and even complete a loyalty card application — all without ever walking away from the customer. When associates are not assisting customers, the Zebra MC40 can be used to execute the many tasks required to keep your store at its best for your customers, such as price audits, markups and markdowns, replenishing store shelves and line busting. And while the MC40 offers the cool consumer look you want for your customers on the outside, you get the durability, data security and centralized management needed to achieve a true enterprise-class lifecycle — and low total cost of ownership.
Applications:
Price checks
Inventory checks
Item locator
Price changes/ price audits
Mobile POS
Light duty inventory/ stock replenishment
Line busting
Assisted selling
Product comparison
Electronic coupons (mobile phone displays)
Market research
Store inventory transfers
Bridal registry lookup
Financial/loyalty applications
Planogram management
Promotion compliance
Merchandising
Secret/competitive shopping
Click and mortar/catalogue orders
Manager/workforce management
Training
Real business-class durability
You get the durability that Zebra is famous for — the MC40 simply works, even if your employees drop it, bump it, use it in a dusty backroom or splash liquid on it.

Our most advanced scan technology
Associates can scan 1-D and 2-D bar codes printed on paper or displayed on the screen of a customer's mobile phone with laser-style speed — even if the codes are dirty, damaged or poorly printed. Omni-directional scanning delivers point-and-shoot simplicity — no need to align the device and bar code.

Comprehensive and secure payment processing
The integrated magnetic stripe reader allows associates to scan a credit, gift or loyalty card. And with an encrypted head, information is never visible in the clear, helping meet PCI regulations.

Rich photographic intelligence
The high-resolution 8 MP camera allows associates to easily document the condition of an incoming shipment, a planogram, promotion compliance and more with the quick press of a button.

A large 4.3 inch touch-only display
The high-resolution 8 MP camera allows associates to easily document the condition of an incoming shipment, a planogram, promotion compliance and more with the quick press of a button.

A powerful voice connection to nearly any other mobile device in your store
With our unique integrated voice solutions, the MC40 is push-to-talk (PTT) ready right out of the box, easily connecting to other PTT-enabled Zebra mobile computers as well as two-way radios.

User replaceable battery for guaranteed availability all shift, every shift
Up to 8 to 10 hours of operation on a single charge virtually eliminates downtime due to a dead battery during a shift; user-swappable batteries protect device uptime and increase device utilization.

Powerful application performance
An 800 MHz processor, 8GB Flash memory and support for 802.11a/b/g/n/r WLANs provides desktop-like speed for demanding applications.

Android fortified for the enterprise
Extensions (Mx) from Zebra adds new features that transform Android from a consumer operating system (OS) to a true enterprise-class OS.

Customize with your brand
Pick the color for the bezel and add your logo to promote your brand. Enables customers to instantly identify your associates and discourages device theft.
Product Specifications
Rent this Product
Need help finding a complete solution?
Call our product experts today!