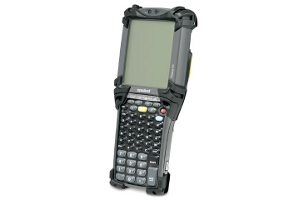 Zebra (formerly Motorola / Symbol) MC9000-K Handheld Mobile Computer
Discontinued
Replaced by: Zebra (formerly Motorola / Symbol) MC909X-K Handheld Mobile Computer
Motorola / Symbol MC9000-K Mobile Computer (also known as MC9002-K, MC9003-K, MC9060-K, MC9062-K, MC9063-K)
Real-Time Equals Real Business Value
The rugged MC9000-K Series from Symbol Technologies, The Enterprise Mobility Company™, is an exceptionally reliable mobile computer that delivers real-time visibility into your company's mission-critical information. Three wireless radios offer maximum accessibility to help workers make more informed decisions. The MC9000-K provides multiple benefits: reduce errors, improve productivity and comply with increased safety standards, environmental or homeland security regulatory issues. It's ideal for your field, delivery, home office, operations, warehouse or factory applications.
Ruggedness and Modularity Reduce your Total Cost of Ownership
The modular design of the MC9000-K gives you more options. Select from Microsoft® Windows® Embedded CE .NET or Windows Mobile 2003 for Pocket PC Phone Edition. These open operating systems support a rich array of applications including those that provide seamless integration with many back-end systems. Pocket PC Phone Edition with wireless WAN-enabled configuration provides enhanced features for voice and data communications. The MC9000-K offers a large monochrome or color display, field-changeable keyboards and an accessory portfolio. Extending the lifecycle of the MC9000-K means that it's no longer necessary to purchase new systems for every new technology need. Its modular architecture allows you to upgrade the MC9000-K as your requirements grow for a lower total cost of ownership.
Create New Advantage with a Superior Mobility Architecture
The MC9000-K is an excellent choice for your mobile application needs—from trucking to shipping and receiving to baggage tracking to warehouse management. In addition to the MC9000-K, Symbol solutions integrate advanced data capture technology, wireless infrastructure, enabling software and high-ROI applications from our business partners. Symbol Enterprise Mobility Services ensure that your mobility solution works seamlessly and at maximum efficiency—from defining your business requirements through ongoing service and support.
Truly Mobile

Capture, move and manage data on the go

Extremely Rugged Design Withstands Multiple 6 ft. Drops (1.8 m) to Concrete

Ensures less down time due to accidental drops

IP64 Sealing Rating (Electronic Encloseure, Display, and Keypad)

Protects against windblown rain and dust to ensure reliable performance in harsh conditions

Microsoft® Windows® CE .NET, Windows Mobile 2003 Operating Systems

Offers open architecture for the widest application support

Includes Windows Mobile 2003 Pocket PC Phone Edition for WAN Configurations

Keeps you connected in real-time with voice and data features

Intel® XScale™ PXA255 Processor at 400 MHz

Delivers the best possible performance for graphics-rich applications and uses less power

3.8-in. LED Backlit, Bright Monochrome or Color Display

Allows easy screen viewing in all lighting conditions-from bright to ambient to dark

Wireless WAN (GSM/GPRS, CDMA), Wireless LAN (IEEE 802.11b®), PAN (Bluetooth™) Communications or RS-232/USB Client or Wireless LAN

Enables real-time data exchange for maximum productivity

Field Replaceable 28-key Numeric, 43-Key Shifted Alphanumeric or 53-Key Full Alphanumeric Backlit Keyboard Options

Provides a variety of data entry modes for maximum efficiency

High Capacity Lithium Ion Battery with Advanced System-Level Power Management

Full-shift battery life for maximum user productivity

Supports AirBEAM® Software Suite

Enhances wireless device management across your enterprise
Need help finding a complete solution?
Call our product experts today!