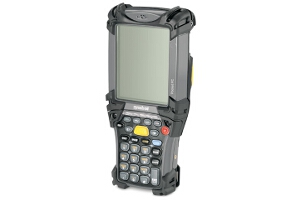 Zebra (formerly Motorola / Symbol) MC9000-S Handheld (Short) Mobile Computer
Discontinued
Replaced by: Zebra (formerly Motorola / Symbol) MC909X-S Handheld (Short) Mobile Computer
Motorola / Symbol MC9000-S Mobile Computer (also known as MC9002-S, MC9003-S, MC9060-S, MC9062-S, MC9063-S)
Improve Mobile Employee Productivity
The rugged MC9000-S Series mobile computer from Symbol Technologies, The Enterprise Mobility Company™, is designed for true mobile field applications. It delivers real-time visibility into your company's day-to-day business transactions for improved efficiencies, reduced costs and new competitive advantage. Built for harsh environments, the durable MC9000-S helps reduce errors and improve productivity for field workers. For route drivers, technicians or law enforcement, it gives instant access to missioncritical customer information.
Future Proof Your Investment
The full featured MC9000-S gives you a number of ways to protect your investment. Improve efficiency with faster software upgrades and future proof your investment with a more scalable, flexible architecture. Choose data capture and communication options to meet your needs— from imaging or laser bar code scanning to wired or wireless connectivity. Select Microsoft® Windows® Embedded CE .NET or Windows Mobile 2003 for Pocket PC Phone Edition. These open operating systems (OS) support an array of applications including those that provide seamless integration with many back-end systems. Pocket PC Phone Edition with wireless WAN-enabled configuration gives you enhanced features for voice and data communications. The MC9000-S offers a large monochrome or color display, field-changeable keyboards and an accessory portfolio. The feature-rich, modular MC9000-S delivers the most flexibility and investment protection.
Create New Advantage with a Superior Mobility Architecture
The MC9000-S is ideal for your mobile field application needs—from direct store delivery to service automation to issuing citations. In addition to the MC9000-S, Symbol solutions integrate advanced data capture technology, wireless infrastructure, enabling software and high- ROI applications from our business partners. Symbol Enterprise Mobility Services ensure that your mobility solution works seamlessly and at maximum efficiency—from defining your business requirements through ongoing service and support.
Truly mobile
Extremely rugged design withstands multiple 6 ft. drops (1.8m) to concrete
IP64 sealing rating (electronic enclosure, display and keypad)
Microsoft® Windows® CE .NET, Windows Mobile 2003 Operating Systems
Includes Windows Mobile 2003 Pocket PC Phone Edition for WAN Configurations
Intel® XScale™ PXA255 processor at 400 MHz
3.8-in. LED Backlit, Bright Monochrome or Color Display
Wireless WAN (GSM/GPRS, CDMA), wireless LAN (IEEE 802.11b®), PAN (Bluetooth™) communications or RS-232/USB Client or wireless LAN
Field Replaceable 28-Key Numeric Keypad
High Capacity Lithium Ion Battery with Advanced System-Level Power Management
Supports AirBEAM® Software Suite
Need help finding a complete solution?
Call our product experts today!