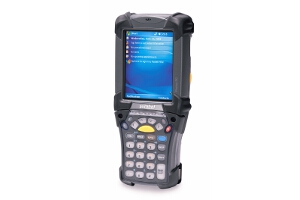 Zebra (formerly Motorola / Symbol) MC909X-S Handheld (Short) Mobile Computer
Discontinued
Replaced by: Zebra (formerly Motorola / Symbol) MC9500-K Wireless Rugged Handheld Mobile Computer
Motorola / Symbol MC909X-S Handheld Mobile Computer (also known as MC9090-S, MC9094-S or MC9097-S)
Empower Mobile Workers Inside and Outside the Four Walls with Integrated Multi-Mode Wireless WAN/LAN/PAN
Building on the success of the Motorola MC9000 family, the rugged, compact MC909X-S handheld mobile computer delivers the exceptional reliability mobile workers inside and outside your four walls need to provide real-time visibility into business-critical information. Designed to handle all-day every day use in nearly any environment, the MC909X-S enables route salespeople, field repair personnel, and workers in the warehouse or on the retail floor to access, as well as capture and send, crucial business information in real time. The latest advances in mobile technology, proven rugged construction, and support for multi-mode wireless connectivity ensure maximum accessibility to coworkers and business systems. Business processes are streamlined and errors are reduced, effectively increasing productivity — and profitability.
The Power to Run Rich Enterprise Applications
From the latest operating system and processor designed to handle the specific demands of mobility, to robust persistent storage capabilities and multiple advanced data capture options, the MC909X-S provides the power to run nearly any application, including voice and multimedia. Built-in bar code scanning and image capture in a compact rugged form factor is ideal for many functions — from pick-up and delivery, fleet maintenance, and inventory counts to direct store delivery, and more. Workers can count on ample battery life for a full shift through superior power management. And modular keypads, a rugged touch panel and a display that is easy to read inside and outside provide users with maximum ease-of-use and comfort.
Rugged Construction and Centralized Management Deliver a Low TCO
The MC909X-S is designed to withstand rigorous use in extreme environments and a wide variety of operating conditions. Adding Motorola's Mobility Services Platform (MSP) enables you to quickly and easily provision, track and support all your MC909X-S devices from a central location, delivering an unprecedented level of simplicity and low cost to management of mobile devices. And Motorola's full suite of services offers everything from deployment assistance to comprehensive support plans that include repair of everyday wear and tear. The MC909X-S — delivering outstanding investment protection and a low total cost of ownership through superior design, construction, manageability and support services.
Converged Voice and Data Including Multimode Wireless LAN/WAN/ PAN and Advanced Data Capture Options

Enables automation of repetitive tasks inside and outside the four walls for increases productivity, response times and customer service levels

WWAN: Integrated Quad Band EDGE/GPRS/GSM or iDEN Radio

Supports converged applications world-wide through a single platform

Integrated 802.11a/b/g WLAN Radios

Ubiquitous voice and data connectivity inside and outside your four walls for maximum efficiency gains

WPAN: Bluetooth v1.2 Radio

Wirelessly synchronize, print, and connect to a headset

Exceptionally Rugged Construction: Passes Industry's Most Stringent Drop and Tumble Tests; IP64 Sealing Rating; Integrated Internal Antennas

Built for year-round field and office use; withstands multiple 6 ft. drops, heat, cold, rain and more; dramatically reduces repair and downtime costs; delivers enterprise performance and ROI

Intel XScale PXA270 Processor: 624 MHz; Enhanced Memory Architecture for Persistent Storage

Supports simple to complex multimedia applications

Windows Mobile 5.0 Premium (non-WAN) or Phone Edition (WAN)

Latest operating system provides intuitive user interface

1D and 2D Bar Code Scanning; Image Capture; Intuitive Laser Aiming

Real-time data capture automates and error-proofs business processes
Need help finding a complete solution?
Call our product experts today!