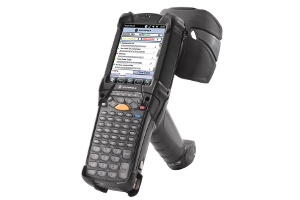 Zebra (formerly Motorola / Symbol) MC9190-Z RFID Wireless Rugged Handheld RFID Reader
Discontinued
Replaced by: Direct Replacement Not Available - Contact Us For Suggested Replacement
Zebra (formerly Motorola / Symbol) MC9190-Z Handheld RFID Reader
Rugged, Long Range RFID Reader for Industrial Environments
To put more product into the hands of your customers – and put more profit into your pockets – you need to know what you have and where to find it. On the dock or in the storeroom, the MC9190-Z Handheld RFID Reader is designed to make that job faster and easier.
The MC9190-Z is a high-performance, highly rugged RFID handheld reader targeted for use in very demanding applications and environments. Designed for medium- to long-range RFID read applications, the MC9190-Z delivers best-in-class RFID read range and accuracy in an ergonomic, integrated RFID and barcode device. Its rugged form factor excels in virtually any environment, indoors or outdoors.
The MC9190-Z joins Zebra's broad portfolio of fixed, handheld and hands-free RFID readers, used in more applications, more industries and more countries. Our comprehensive offering of RFID solutions helps our customers simplify deployments, lower costs and maximize return on investment.
Long Range, High Performance Saves Time and Money
The MC9190-Z is Zebra's new best-in-class standard for handheld RFID readers. With its high RF sensitivity that provides for greater accuracy, higher throughput and longer reads, the MC9190-Z reaches further to bring reliable data about your products right to your fingertips. Inventory counts can be accomplished more often, more quickly and accurately and, unlike scanning with bar codes, without line of sight. Then, armed with more complete information, you can better locate and track assets and inventory, and manage your stock levels to avoid running out of product or carrying expensive excess inventory.
Rugged and Ready to Work
The MC9190-Z is sealed to meet IP64 standards so you can use it even in dust or rain. A tough, non-glare LCD screen allows for optimal reading in bright sunlight and worry-free glass protection in rugged use. The MC9190-Z's specially designed corner bumpers enable it to handle repeated drops to a concrete floor with a 6ft./1.8m drop spec. We built it to work for a living, even in your toughest environment.
Make a Smart Choice
The MC9190-Z joins the broadest, most comprehensive portfolio of business and industrial fixed, mobile, handheld and hands-free RFID readers available today. Simply put, Zebra RFID devices are being used in more applications, more industries and more countries. To you, that means extensive experience you can tap to solve your unique challenges, higher confidence that we can deliver what you expect and greater value built in every device we make. It all adds up to make the MC9190-Z an easy choice.
Multi-modal data capture
Integrated RFID and barcode in one rugged device gives you lower total cost of ownership.

Greater efficiency
Reliable, long-range RFID performance allows more frequent and more accurate inventory-count operation to better manage on-the-floor, backroom and distribution inventory – reduce out-of-stock and excess inventory carrying costs.

Maximum rugged design
Can withstand a 6 ft./1.8 m drop to concrete, 2000 one-meter tumbles and has an IP64 sealing to help ensure reliable operation in spite of everyday drops, bumps and exposure to dust and liquids

Superior ergonomic design
The most ergonomic RFID handheld reader in its class, the MC9190-Z is easy to handle, so staff can use the product longer with less fatigue.

Readable in any environment
The MC9190-Z features a large 3.7" VGA colored touch-screen with reduced glare for easier use indoors and outdoors.

Make sure only authorized users access your devices, your data and your network with Zebra MAX Secure
Wired-line grade security without impacting wireless performance: native FIPS 140-2 Level 1 certification; support for all the latest encryption and authentication protocols; compatibility with Zebra's Mobile Security Suite for device-level protection and compatibility with Zebra's Mobile Virtual Private Networks (MVPNs)

Common access card (CAC) capable
Optional accessories to support authentication for government applications
Need help finding a complete solution?
Call our product experts today!